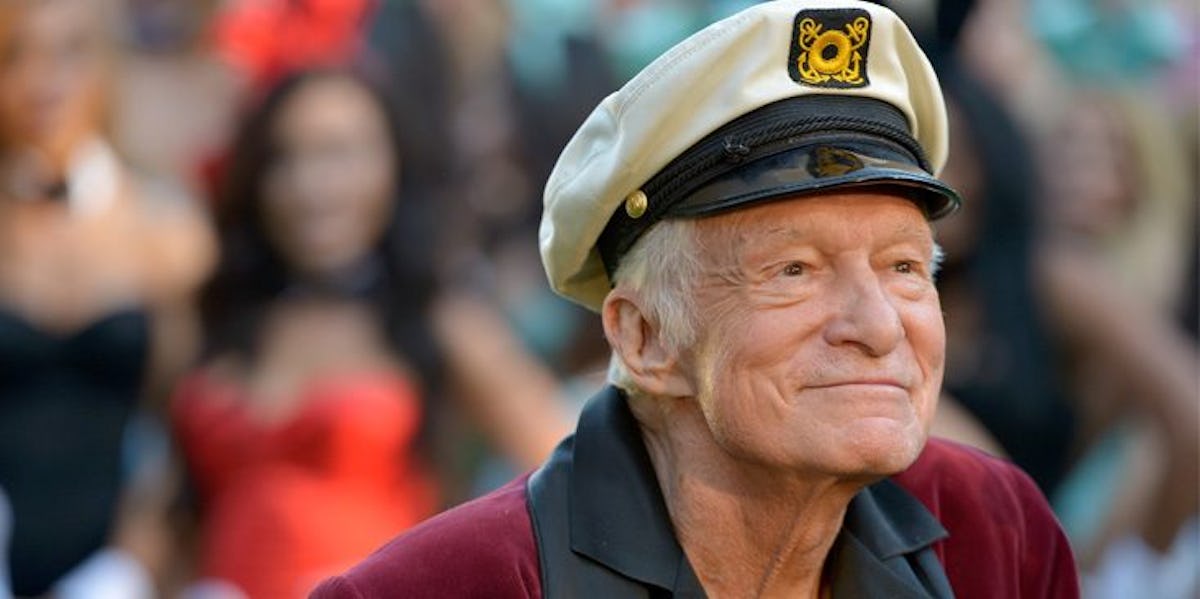 'Playboy' Icon Hugh Hefner Has Died And He's Leaving Behind More Than An Empire
Charley Gallay/Getty
Late on Wednesday night, People reported that Playboy founder Hugh Hefner died at the age of 91. Playboy Enterprises confirmed that the magazine mogul passed away of natural causes. Though many people will surely remember Hefner for Playboy and his notorious lifestyle, there's actually more to him than the publication. In fact, Hugh Hefner had four kids and some of them stayed in the family business.
At the time of his death, Hefner had been married to Playmate and TV personality Crystal Harris for over four years. Prior to his relationship with Harris, Hefner had two other marriages, both of which resulted in children. It was actually one of Hefner's sons, Cooper, who gave People a statement, on behalf of Playboy Enterprises, confirming his father's death. He stated,
My father lived an exceptional and impactful life as a media and cultural pioneer and a leading voice behind some of the most significant social and cultural movements of our time in advocating free speech, civil rights and sexual freedom. He defined a lifestyle and ethos that lie at the heart of the Playboy brand, one of the most recognizable and enduring in history. He will be greatly missed by many, including his wife Crystal, my sister Christie and my brothers David and Marston, and all of us at Playboy Enterprises.
Cooper (pictured with his fiancée below) is Hefner's youngest child and the son of Hefner and his second wife, Kimberly Conrad. Currently, Cooper serves as the Chief Creative Officer of Playboy Enterprises. According to Us Weekly, he is also engaged to someone who should seem familiar — Scarlett Byrne, the actress who played Pansy Parkinson in the Harry Potter movies.
Hefner and Conrad also had another son together, Marston. In 2012, Marston was in the news when he was arrested for allegedly assaulting his then-girlfriend, Playmate Claire Sinclair. E! News reported that Marston plead no contest to "corporal injury to a cohabitant or spouse" and as a result, was ordered to undergo a domestic violence program and stay away from Sinclair.
Though Hefner and Conrad, his second wife, separated in 1998, both Cooper and Marston basically grew up in the Playboy Mansion. In an interview with the New York Post, Cooper explained that they lived with their mother just next door to the mansion. He recalled,
When Dad was having more 'eventful' parties in the summer and on Halloween ... security would go on baby-sitting watch to make sure my brother and I were kept in the house.
Hefner also had two children with his first wife, Mildred Williams, who he was married to for 10 years. Their daughter, Christie, actually ran Playboy Enterprises for years. As reported by the New York Times, Christie stepped down as CEO and chairman of the company in 2008, after working for Playboy since 1975. She has also been named one of Forbes' 100 most powerful women and since leaving Playboy Enterprises, has served on many different companies' boards and became executive chairman of Canyon Ranch Enterprises in 2011, according to the Arizona Daily Star.
She's also been outspoken about the need for gender equality and just last month told TheStreet,
I was very fortunate because it was even harder for women to get ahead then and so, candidly, I capitalized on that and was able to attract incredibly talented women who felt they couldn't go any further in the companies they were working for ... When I left [in January 2009] over 40% of my executives were women.
Hefner and Williams also had a son, David, who seems to stay much more out of the spotlight than his siblings. In 2001, a Vanity Fair profile of Hefner mentioned that David was "a computer programmer in Northern California," and not much else is known about him.
So while most of us associate Hefner with silk robes, Playmates, and that iconic bunny, behind all of that, he was a father who will surely be missed by his four children.