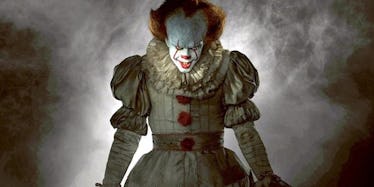 DIY 'It' Halloween Costumes To Scare The Sh*t Out Of Everyone On A Budget
Warner Bros
If you really want to terrify your friends while also being super relevant to pop culture this Halloween, then the perfect costume choice is obvious. Though Pennywise the Clown has been around for decades since Stephen King first published his novel It in 1986, the murderous clown demon got a twisted makeover this year when Bill Skarsgård picked up the iconic red balloon that Tim Curry first made famous. You can get the horrifying, updated Pennywise look with these DIY It Halloween costume ideas.
The 2017 version of It came at just the right time to make your Halloween decision this year a total no-brainer. Not only is the demonic clown look probably the most terrifying, nightmare-inducing thing most anyone has ever seen, but the new movie also premiered less than two months before it was time for everyone to go Halloween shopping. That makes Pennywise the perfect blend of horror and timely pop culture to be the must-have Halloween costume of the year. Oh, and not to mention killer clown somehow became such a trendy thing recently thanks to both It and American Horror Story: Cult. To get in on the creepy clowning around this year without breaking the bank, all you need are a few basic items. Consider this your step-by-step guide to get the Pennywise look for just pennies
Step 1: The Makeup
The most important part of this costume is the makeup, and thankfully it can also be really cheap. The easiest way to get the It face without having to worry too much is to buy a pre-packaged evil clown makeup kit, which most Halloween or costume stores will be selling. The kit below, available online from Spirit Halloween, includes not only the makeup you need to transform yourself, but also the nose and horrifying teeth. You can buy it for just $7.99.
To go even simpler and save even more money, all you really need to recreate the updated Pennywise look is some clown white makeup and red lipstick. You can find clown white makeup going for as cheap as $3.50 online, and red lipstick selling for under a dollar. Just cover your face in the clown white makeup, and apply the lipstick. The 2017 Pennywise also has two dark lines going up from the edges of his lips and through the middles of his eyes, which you can also draw on with your lipstick to save some cash.
Step 2: The Hair
Another important part of the costume is getting the Pennywise hair just right. Unlike the usual afro-style clown wigs most of us usually see, Pennywise's hair includes a notable bald spot. You can find some cheap wigs that replicate this online, like this $16.67 wig from retailer Online Fancy Dress.
Another solid option if you have long enough hair for it, is to replicate Pennywise's blown-out red hairdo with hairspray and temporary coloring. This washable, red hair color from Target is only $4.69, and you can pair that with a cheap bottle of hairspray (you can find them online for as low as $2) to mold your hair into Pennywise's pointed coifs.
Step 3: The Outfit
The hardest part of putting together your own It  costume is going to be getting the clothes just right, but thankfully, it's also the least important if you do a good enough job with your makeup and hair. The 2017 version of Pennywise wears a grey shirt covered in ruffles. You should probably give up on finding that exact shirt on your own, but check out pieces of pirate costumes at your local Halloween store for some near matches. This ruffled men's shirt from Candy Apple Costumes sells for $21.99.
Also, be sure to rummage through thrift stores for the shirt and pants options for your take on Pennywise. You might just find something that could work and only cost you a couple of bucks.
Step 4: Finishing Touches
To really put your Pennywise costume over the top, consider adding a few flourishes at the end. Bill Skarsgård's Pennywise is also known for his demonic, yellow eyes and iconic red balloons. You can get a pair of yellow colored contacts to creep your buddies out from Top Colored Contacts for $13.99. As for the red balloon, I'm pretty sure you can find a cheap pack of balloons from a convenience story near you, but if you want an online option, Bargain Balloons will sell you a pack of ten for less than a dollar.
So there you have it — an easy DIY Pennywise costume while being wise about spending your pennies. Get ready for your friends to freak out this Halloween!