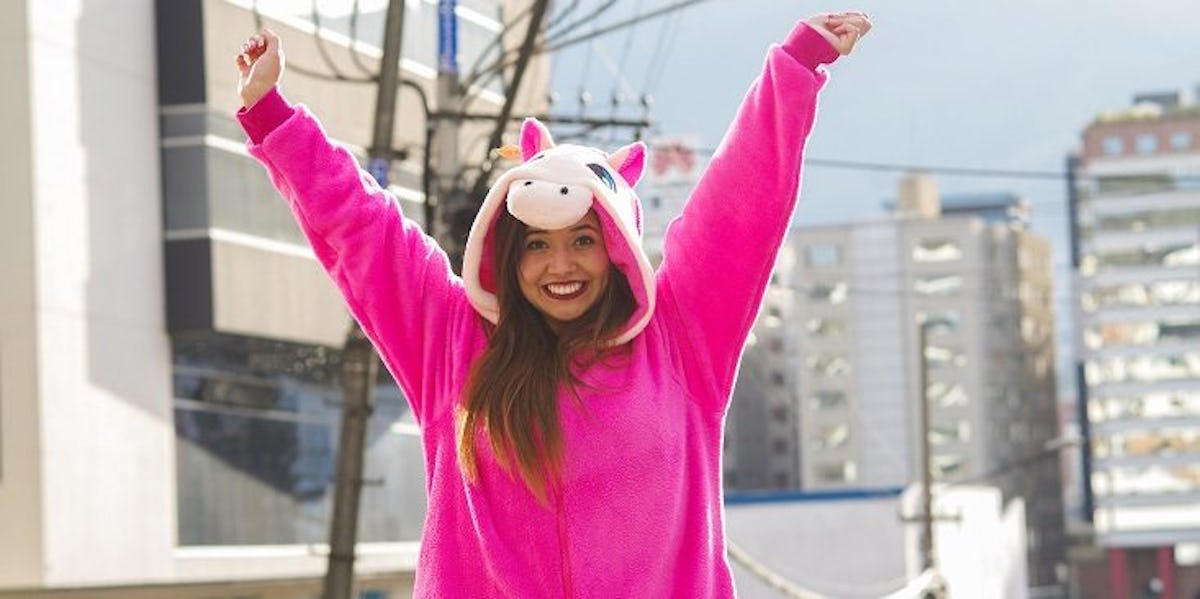 8 Ways To Make Your Own Lisa Frank-Inspired Halloween Costume
Fotos 593/Fotolia
Let's face it: We all want to live in a Lisa Frank universe. If you don't, you just haven't really thought about it yet. Imagine all the colors of the rainbow, golden retrievers, dolphins, unicorns, and fluffy bears. OK, good. Now I have you on-board. Well, we've all decided we want to live in a Lisa Frank universe, and Halloween is the perfect time to achieve your dreams. Especially, by being the thing you most want to be as your costume. There are a ton of DIY Lisa Frank costume ideas so at least for one night, you're living a rainbow fantasy.
It just takes some creativity and YouTube tutorials to create the perfect Lisa Frank costume. It really is just being whatever rainbow fantasy you want to be. Let your imagination run wild. Find your old pencil cases and folders for inspiration. If you're still struggling coming up with the perfect Lisa Frank Halloween costume, here are eight DIY tutorials to help you out. They're super simple to follow along, so anyone can create a totally awesome costume. You'll definitely be the center of attention at your Halloween party too, making everyone nostalgic for their Lisa Frank trapper keepers from grade school.
1. Lisa Frank
I really love this Lisa Frank costume. You can reuse a dress you haven't worn in awhile, and want to find a second use for it. The necklace and unicorn horn are also so cute.
2. The Whole Lisa Frank Crew
Every member of your squad can be one of the iconic Lisa Frank characters like the Pink Kitten or Casey the Golden Retriever. This video shows you how to throw together a super simple costume for each character. Then, you and your squad can get some Halloween pics this year that you'll want to post on Instagram right away.
3. Lisa Frank Cat
If you want to be a cat for Halloween, don't just be the traditional black cat. You can be a rainbow Lisa Frank cat to really stand out. Most of this costume is the makeup look. For the rest, you can find anything bright from your closet, and get some cat ears.
4. Unicorn Headband
You can be a Lisa Frank unicorn with this DIY headband. It's super colorful and fun. You could just wear the headband with a cute white dress, because it stands out on its own. Or, you can get creative with the rest of your Halloween outfit.
5. Rainbow Dalmatian
Like the video says, this costume is super cheap and easy to make. You just need one stop at your local arts and crafts supplies store, and everything you need is right there. Who knew you could make a dress out of a large t-shirt? Very creative!
6. Lisa Frank Leopard
This costume is also mostly makeup, but the Lisa Frank leopard spots are great. You can also get creative with a bright, colorful outfit to match whatever wig you wear. And if you don't have cat ears, you can make some cute colorful ones with a headband and fun felt.
7. Lisa Frank Hoodies
If you want your Halloween costume to be extra comfy, you can make these Lisa Frank hoodies. You can be the Lisa Frank unicorn or throw on some overalls and be the Lisa Frank Painter Panda. It's comfy and cute!
8. Unicorn Tutu Costume
This is a super cute take on the unicorn costume. Who doesn't love wearing a tutu? I know, I do. Now that you know how to make a cute tutu with this tutorial, you can make so many more for other costumes.
And if it's too cold outside to wear this one on Halloween, she offers options for a warmer costume with a long sleeve top and tights.