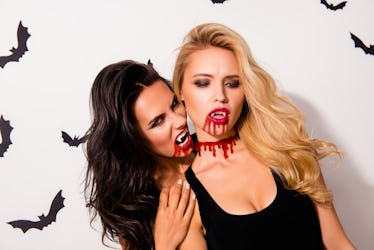 7 Beautiful & Sexy Vampire Makeup Tutorials You'll Want To Stick Your Fangs Into
No matter how basic people think being a vampire on Halloween is, they're not you. There isn't just one way to acquire that vampire look and nor should anyone be allowed to take a bite out of your fun. Since vampires are such mythical creatures, it's our imaginations that give them life in the first place... figuratively, of course. Mastering how to do Halloween makeup for vampires is so available to anyone willing to learn, that we should send YouTube a "thank you" card.
We don't need Twilight to remind us how enticing and downright sexy vampires and their whole existence is. Aside from the fact that they'd want to suck you dry before you could get out either one of those compliments, they are certainly swoon-worthy. Most importantly you'd be #winning if you pulled off their image in a noticeably gorgeous way.
The opportunity to make something your own has arrived. So, you need to make sure you are adding your own flare and style to the notorious night walker that inhabits many books, movies, and cautious tales. In other words, you need to be the vampire you envision. Now, if you need a little help prepping the face with makeup and fake blood, see how these ladies slayed and made Dracula proud.