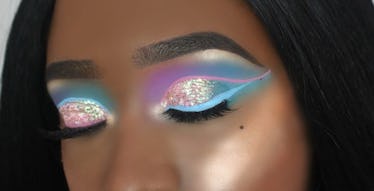 How To DIY Unicorn Makeup And Look Majestic AF This Halloween
Courtesy of louise.keane/Instagram
I admire people who opt for frightening or funny Halloween costumes: Witches, Teletubbies, and the bloody Grady twins from The Shining are all classic options that make for a killer party. With that said, I don't want to be one of them. On Halloween and a few other special days of the year, I want to look pretty. I've got no shame, and there's got to be people out there like me. For anyone with intentions to slay Halloween and simultaneously look gorgeous, we've rounded up easy unicorn makeup tips you can do yourself, at three different levels of skill and effort. Plus, they don't even take long to execute.
Why are people so obsessed with unicorns, you ask? Well, they're precious, rare, mythical creatures with a luscious white mane and an unbelievable horn in the middle of their mug. Simply put, unicorns are stunning. And in a world where social media conspires to make us all look the same, every iteration of a unicorn costume can be brilliantly different, and none of them are wrong. That's because no one has actually ever seen a unicorn. So if you welcome this prime opportunity to shine, know that you can tweak the tips below to suit your prerogative.
Here are three ways to DIY unicorn makeup this Halloween, or any time you freaking feel like it.
1. Easy: Smear Unicorn Poop Across Forehead
This is a magical unicorn look that literally anyone can achieve in minutes, regardless of whether you don't like applying a ton of makeup or just feel lazy. Simply buy some sparkly Unicorn Snot and apply across your forehead, curving down to your cheeks in a big M shape. The Prima Makeup Unicorn Poop Face Body And Hair Glitter Mix, which is shown above, requires the additional purchase of a glitter gel adhesive to mix with it before applying in the same manner.
Need this look, like, yesterday? Head to an arts and crafts store and buy chunky glitter. You can adhere to your skin by spreading a thin layer of clear eyelash glue like Duo Eyelash Adhesive in Clear on your face, waiting about five seconds, and then applying the glitter over the gel with your fingers. Wipe away any errant glitter with a makeup wipe. Pair this show-stopping style with your de facto look, whether that be a smoky eye or bare face.
Duo Eyelash Adhesive, $5, Amazon 
For super festie unicorn lips, add a swipe of pearlescent blue lipstick like Too Faced La Crème Lipstick in Unicorn Tears or Wet 'n Wild Prismatic Lipstick in Unicorn Soul or Immortal Tears. If you spent too much $$$ on your costume and you already have highlighter or illuminator on hand, simply dab that over lips, and you're good to glow.
La Creme Lipstick in Unicorn Tears, $22, Too Faced  
2. Intermediate: Go For Unicorn Eyes
If you have basic eye shadow application down, pony up and try this pretty eye look created by makeup artist Courtney Gargan. Here, she breaks down how to DIY it, exclusively for Elite Daily readers:
Start by spreading eyeshadow primer or concealer all over from lids to the brow bones.
With a medium sized eyeshadow brush, brush a cream colored eye shadow all over to set. Then, sweep a pink shadow under the brows. Apply a deep red beneath the pink, towards the crease. Finish by placing a burgundy shadow in the crease only.
With a smaller eye shadow or eyeliner brush, apply a black shadow to the outside corner of the eye.
Wipe off that brush thoroughly. Then use it to apply the eye shadow primer or concealer from the first step in a small half circle on the inner corner of the eyelid. Layer the cream colored shadow from step 2 over top and blend away harsh lines at the outside with the brush. 
Take a dark eyeliner and line your lower waterline (the part of your lower lash line closest to your eyeball). Then apply liner along the top lash line. 
Apply shadows to your bottom lash line. Blend the darkest colors (black, burgundy) close to lash line and the lighter color (pink) beneath, blending downwards. 
Spread a thin layer of clear eyelash glue directly under lower lashline and cover with chunky, loose purple glitter. Allow to dry.
Finish with mascara or false eyelashes.  
Note that shadow colors can be substituted for colors you already own. Just be sure to use light hues where light hues were used, and dark colors where dark colors were used. (Courtney followed the same steps with golden colors in the video below!)  In order of application, Courtney used: Makeup Geek Eye Shadows in Vanilla Bean, Simply Marlena, Bitten, Cherry Cola, Corrupt, Duo Eyelash Glue, and Prima Makeup Unicorn Poop in Lunaria.
See how pretty it is in motion below—who will be able to resist your enchanting beauty?
3. Pro: Instagram Worthy Eyes & Cheeks
If, like, you don't want to brag but you're actually pretty adventurous and makeup savvy, try wowing everyone in your feed with this mystical feast. Makeup artist Louise Keane, who spends her days educating YouTube followers, explains how to do it exclusively for Elite Daily:
 Start by applying an eyeshadow primer or base color to the whole of your eyelid. Set the base with a translucent powder. 
 Pick a powder highlighter that complements your skin tone and apply to the brow bone. 
Using an eye shadow brush, apply a bright violet eye shadow from the inner corner of the eyelid towards the halfway point of the crease, blending the color out with a horizontal motion. Take a light blue eye shadow and blend the two colors together, sweeping the blue shadow to the outer crease of the eye. 
To create a cut crease (a line over the crease of your eye), use a skin-colored eye shadow or the base color you used in step one. Draw a curve from the inner corner to the outer V of the eye, flick up and then blend downwards to fill in the lid. Switch to a pink glittery shade and press over your lid, stopping at the outer corner.
Follow the curve above the lid with a pink liquid eyeliner. As you get to the outer V of the eye, flick upwards to create a curve. Make sure the line is thin. 
Use a light blue liquid eyeliner to draw a thick, exaggerated cat eye across the upper lash line. (Face paint provides more control, also an option.) 
Choose a subtle set of eyelashes, as this look is quite flamboyant, and place the lashes as close to your upper lash line as possible. 
Mix an iridescent, chunky glitter along with glitter fix glue or clear eye lash glue.
Gently apply your mixture on top of the light pink shade you have already applied to your lid. Do this in sections, starting from the inner corner to a third of the way on your eyelid. Leave this to dry and when it is no longer wet, go in with the light blue shade eye shadow in the outer corner of your lid and blend it out.
Using that same shade of blue, apply and blend over your lower lash line.
Using a gold-toned highlighter, highlight the inner corner of your eye and your cheekbones generously.
Feel free to swap colors for ones you like! In order of application, Keane used:
NYX Jumbo Pencil in Milk, $4, Target  |  Anastasia Beverly Hills Glow Kit in Summer shade, $40, Sephora  |  Morphe 35B Palette, $23, Morphe Brushes  |  NYX Vivid Eye Liner in Petal, $7, Target  |  Huda Beauty Lashes in Scarlett #8, $20, Sephora  | NYX Glitter Mania in Crystal, $6, Ulta  |  Helen E Glitter Pigments in Confetti, $6; Helen E  |  Scarlett PaintGlow Glitter Fix Gel, $4,  Camera Ready Cosmetics