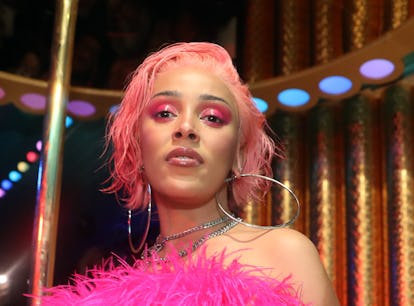 10 Egirl Makeup Looks For Halloween That'll Blow Your TikToks Up
Better stock up on blush.
Johnny Nunez/WireImage/Getty Images
With Halloween on everyone's minds, it's also time for another brutal reminder: Sure, it's fun to dress up and go all out, but some costumes can be a lot of work and end up costing a decent sum of money. (And that's not to mention the fact that there are very few reasons to dress up like a vampire once Oct. 31 has come and gone.) So rather than break the bank on a head-to-toe costume you most likely won't wear again, you can always rock an egirl look this Halloween with these egirl-inspired makeup tricks. Before we get into it, yes, you're going to need a lot of blush.
Egirls were one of the first subcultures born from TikTok. It's a culmination of goth, emo, and scene aesthetics with a mixture of harsh eyeliner, accentuated under-eyes, and vibrant eyeshadows. By putting these unique styles all together, you get the singular look that is egirl makeup. To really sell the look, egirls add a very healthy amount of blush to their cheeks and noses to give an almost Rudolph-like effect. While you'll definitely need some chains, the egirl fashion varies from person to person.
Egirls don't have to be makeup aficionados. You can recreate these looks with 50 brushes or using only your fingertips. Just make sure you have a heart stamp for your cheeks, like Milk Makeup's Tattoo Stamp ($12, Milk Makeup), and you are golden. Maybe memorize a few TikTok audios, too. It can't hurt.
But if you're searching for a specific egirl makeup trend to try this Halloween, any of these 10 looks below will have you pulling off the moodiest makeup routine of them all.
We only include products that have been independently selected by Elite Daily's editorial team. However, we may receive a portion of sales if you purchase a product through a link in this article.
Have a very egirl Halloween with these tutorials in your back pocket.