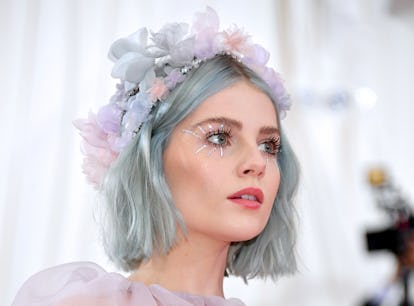 The Perfect Aesthetic Makeup Look For You, Based On Your Back-To-School Vibe
I'm torn between fairycore makeup and the updated egirl.
Dia Dipasupil/FilmMagic/Getty Images
Do you smell that? The scent of an impending return to education is beginning to seep into the air. And while that means reuniting with the friends you've missed all summer, the beauty of notebook shopping, and probably more than a few stress pimples, it also means that it's time to figure out your back-to-school aesthetics, including the ideal back-to-school makeup look you'll want to adopt. Once you decide on your overall style vibe for this year, I have the ideal makeup look that complements it.
Whether you're back in the classroom full time or staying on Zoom, making a little time for makeup in the morning can help make you feel put-together and ready to take on the day. You don't have to be a beauty connoisseur to recreate these looks at home, though. There are ideas for every skill level, as well as different ideas for how much makeup you like to wear, and you should feel encouraged to adapt every look in a way that makes you feel most bad*ss. If you like to keep it simple or go all out every single day, there's something here for you.
Even if you haven't settled on just one back-to-school vibe to commit to, you can rock these looks on a rotating schedule until you settle on one you really love. And in the TikTok era, it seems subcultures are pretty much dead, so play around with all of these until you find the aesthetic that feels the most like you — regardless of the "trend."
From full-glam to slapped-together, these are the must-try beauty looks for all every back-to-school aesthetic.