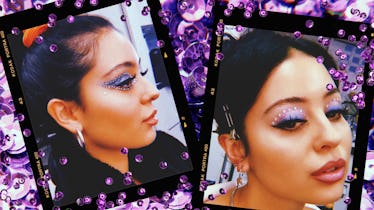 6 Halloween Makeup Looks That Don't Require Buying An Actual Costume
I do this every year: I start thinking about my Halloween costume by June (at least) and I come up with some really good ideas. But before I know it, it's October and I've already forgotten what I wanted to dress up as. And it always ends days before Halloween when I throw together something at the last minute, hours before a friend's costume party. Because old habits die hard, I've decided to peruse the internet for the best ways to create Halloween costumes with only makeup the next time I find myself scrambling at the last minute. My vanity drawers are stuffed with all the makeup I need and surely I can find something hidden in the back of my closet, right?
But after falling down a rabbit hole of Halloween makeup looks on social media, I realized these looks are less about settling for a last-minute costume (though they're great in a pinch) and more about letting your makeup take center stage (because they're that good). Scroll down for seven costumes you can recreate using a packed makeup bag and items you probably already have in your closet. And the best part is they still look good enough to win all those costume contests that you're sure to run into this year.
Maddy from Euphoria
The Makeup: Pay homage to one of the most iconic characters on HBO's hit show Euphoria with her classically gorgeous makeup look. Pick up some flat-back crystals and eyelash glue, and use your favorite eyeshadow palette to create a colorful eye look that's scary good. Dot the crystals wherever they take you, and finish with an exaggerated cat eye.
The Outfit: Maddy's not only a makeup queen, but she's a quintessential fashionista, so pull out your sexiest, most fashion-forward dress to go with this makeup. If you're lucky enough to still have a cheerleading outfit from school years past hidden in your closet, you could also wear that.
An Alien
The Makeup: Why not be a celestial figure traveling throughout the galaxy? Alien makeup has soared in popularity on Pinterest, with searches up 659% this year, according to the brand. Create an ombré effect by blending together shades of pink, blue, and purple cream shadows with a makeup sponge, then use white eyeliner to create stars and constellations. Finally, dust a silver-toned highlighter across your entire face, and it'll look like the moon is shining down on you all night.
The Outfit: Anything covered in a galaxy print would be a cute way to round out the theme (celestial leggings, T-shirts and socks all work great!), but a little black dress could work just as well.
Unicorn
The Makeup: The makeup looks you can create with a unicorn in mind are endless. Create a pink contour with heavy blush or a pink eyeshadow, draw on a rainbow cat eye, stick on some rhinestones, dust yourself in glitter, and you're good to go. Pretty much anything bright and color anything goes here.
The Outfit: Pair your colorful makeup look with an all-white or silver outfit, and of course, don't forget your shiny unicorn horn, which you can make with paper and a headband in a pinch.
Mermaid
The Makeup: Slip a fishnet sock over your head and apply metallic blue and purple eyeshadows over the net to create a scale pattern. Remove the sock and embellish your look with glitter, rhinestones, seashells — anything reminiscent of the sea. Finish off your look with a colorful lip and eyeliner. Extra points for colorful hair or a mermaid-inspired wig you have sitting in the back of your closet.
The Outfit: There's literally no better time to wear a mermaid skirt than for Halloween. To complete the look, throw on a sequined top and pile on the costume jewels.
PowerPuff Girl
The Makeup: Pinterest also reports that PowerPuff Girl makeup is one of the most popular searches for women this Halloween — and it's so easy to do. Simply pick whether you want to be Blossom, Bubbles, or Buttercup and create a monochromatic makeup look using the corresponding color. Bonus points if you have a lip product in a color that matches your eye makeup.
The Outfit: Scour your closet for a blue, pink, or green dress, depending on which PowerPuff Girl you chose. Then, simply wrap a black belt around your waist, and your costume is complete.
Ice Queen
The Makeup: Now's your chance to pile on the glitter! To get this Ice Queen makeup look, mix white face paint with your go-to foundation to give your skin that frozen look. Pile on the silver-tone highlighter and break out the silver glitter. Finish with a holographic blue lipstick.
The Outfit: Anything light blue, white, silver sequined, glittery, or iridescent would work for this look.
This article was originally published on