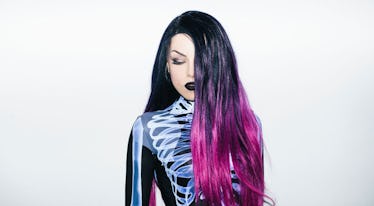 4 Super Easy Halloween Makeup Tutorials For Beginners, Because We Aren't All Pro Makeup Artists
Aleksandar Novoselski/Stocksy
With so many talented makeup artists and beauty aficionados posting lewk after lewk to Instagram every day, it's easy to feel inferior about your own skill level. When it comes to creating the perfect makeup for your Halloween costume, how can anything you do possibly measure up to their levels of artistry, right? Not so fast — I'm here to tell you to press pause on that negativity, because I've rounded up four fab and super easy Halloween 2018 makeup tutorials for beginners, all of which you would look stunning with, should you choose one to accompany your costume this year.
While beginners might not be ready to deep dive into the world of realistic special effects makeup, there are still a ton of ways to get involved with costume glam and totally nail it. Prefer pretty looks over the gory and grungy? If you like the idea of getting wild with some gemstones, this super-bedazzled look by makeup artist Ciára Mackenzie might be the inspo you crave.
Whether your costume is Coachella princess or fairy queen, a few well-placed gems can really take it to the next level:
Think you can't possibly devote your time to placing on crystals one by one? Fear not — this gorgeous creation doesn't have to take hours at all. To create this effect, you can use a full-face gem appliqué, like Glitter Disco Child's Crystal Pixie Face Gems ($15, Dolls Kill), which apply like a large sticker and transform your makeup into a bejeweled wonder in seconds.
If you don't think you can handle creating your own gemstone pattern, appliqués like this are the answer to your prayers.
If you're someone who has mastered a night-out, full-glam look, but you don't feel you can pull together a creative makeup-based costume, you might actually have all the skills you need. 16-year-old makeup artist Caitlin's take on "the Instagram eye" trend could be the perfect Halloween glam for you.
Just create a gorgeous eye look like you normally would, but finish it off by drawing an Instagram "post" around it. Make sure you color in the heart so everyone knows your costume is racking in the Likes:
To create your post outline, use a product like the NYX Jumbo Eye Pencil in shade "Milk" ($5, nyxcosmetics.com) to create the white borders, and then draw on the text and icons using a liquid liner that has a super-fine point. The Stila Micro Tip Stay All Day Waterproof Liquid Eye Liner ($22, stilacosmetics.com) has the perfect tip for detail work.
Sometimes, the hardest part of a Halloween makeup look is simply how much there is to do. Who has the time? The energy? The skill level to ensure both sides of the face are symmetrical? Not I!
I know it looks complicated, but this Starry Night/Blank Canvas glam by makeup artist Vanessa only requires you to get artsy with a fraction of your face. You can handle that!
She's even got a video tutorial showing exactly how she achieved the Van Gogh vibes. Spoiler alert: It requires paint, patience, and lots of little strokes.
Even though it looks like you might need an artist's collection of colors and products to achieve this look, Vanessa claims all it took was some time with her Mehron Paradise AQ 8-Color Palette ($40, mehron.com) to get the shades just right.
Maybe the thought of doing any detail work — even just that small sliver — feels like too much to handle. In that case, a galaxy glam is definitely for you. Galaxy-inspired makeup is all about the colors, so you can grab your pinks, purples, and blues, and blend until you create your ideal base. All galaxies are unique, so there's no wrong way to place the colors, making it a fool-proof pick.
For makeup artist Mosunmola Owajoba's take on the look, focus the colors on the eyes and cheeks, and then finish off with a white eyeliner to draw dots and stars. Simple yet stunning!
For her version of galactic glam, makeup artist Abby Roberts focused all the paint up top, using a purple sky to compliment a berry-toned wig and accenting her simple constellations with a few gems:
Cream products are the best for blending, so opting for something like the wet n wild Fantasy Makers Multistick Body Crayons ($3 each, wetnwild.com) is a great choice that won't break the bank. Shades "Purple" and "Fuchsia" are ideal for a stunning celestial sky. To finish, dot on shooting stars and constellations with the brand's Fantasy Makers MegaLiner Metallic Liquid Eyeliner in shade "Wicked White" ($4, wetnwild.com). If you're looking for an eye palette to complement galaxy glam, the Anastasia Beverly Hills Norvina Eye Shadow Palette ($42, anastasiabeverlyhills.com) is purple perfection.
Hopefully, the above four looks have convinced you that you really can participate in Halloween glam, even if you aren't a pro makeup artist (nor a girl with an unreasonably large makeup collection, like myself). A little time and patience and a few key products are all you need to create gorgeous looks when you've got some good inspo to reference, so try out one of these great options or hit up your Instagram Explore page and bookmark some looks you love. Halloween is only once a year, and you want to put your best face forward!