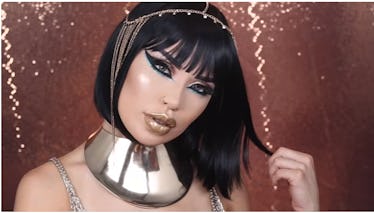 8 Pretty Halloween Makeup Ideas That'll Have You Glowing
For us ladies who don't necessarily want to partake in the scary costume get ups this Halloween, it's imperative that we find a way to stand out. Clearly, we still want to dress up, but we want to make jaws drop in awe, not from fear. With that being said, coming up with a few pretty Halloween makeup ideas is the way to make yourself become the brightest star in the room.
From glitter to the perfect winged eyeliner, there are plenty of ways to paint that face of yours into something that will be hard to forget. If we could, we'd wear these makeup ideas on the regular, but then what fun would Halloween be? Nonetheless, this year, get super creative and try a look that not only surprises you, but also the crew you roll with, for your Halloween festivities.
Turn the heads of goblins, ghouls, and zombies with a little extra TLC to your makeup. It's almost like we get to step into a completely different persona for Halloween. It's super fun and worth it, though. Finding a makeup theme that's already as vibrant as your contagious personality is the perfect costume pairing. So, if you need some tips on how you can make your makeup the shiniest thing in the room this Halloween, these ladies have got you covered.