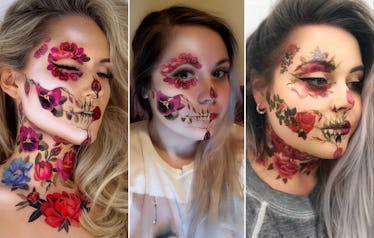 This App Convinced Me To Tattoo My Own Face For The Most Boo-tiful Halloween Look — EXCLUSIVE
Vanessa Davis // YouCam // Theresa Massony
I'm not joking when I say I don't think I'm as passionate about anything as I am about Halloween. Maybe this is because I'm a Scorpio. Maybe this is because my birthday is only three days before Halloween. Regardless, I still obsess over anything and everything All Hallows' Eve-related like a child obsesses over their favorite toy. The one thing I simultaneously love and hate most about this holiday? Deciding on a Halloween costume. It's like, do I wanna be scary? Cute? Weird? All of the above? What if the look I think I want ends up being a total disaster when it's actually on me?
Well, I've got some intel that will make deciding on your Halloween ~lewk~ this year a little easier. YouCam Makeup, an app that uses augmented reality (AR) to allow you to try on a myriad of different makeup products and even full looks, has teamed up with makeup artist Vanessa Davis to create a truly stunning Halloween look in the app. The look, created by Davis IRL, is something she has aptly dubbed "Flower Skull Makeup." Where you would normally darken the hollow areas of a skull for traditional skull makeup, Davis has filled these areas with temporary floral tattoos and used leaves in place of teeth.
When I first saw this look, my eyes lit up at how much I'd simultaneously scare and enthrall everyone I looked at on Halloween if I did it myself. However, while it looks beautiful as ever on Davis, I was a bit skeptical of how it would translate on me. As you can see in the video above, the look does involve a pretty extensive amount of temporary tattoos if you want to recreate Davis' exact look — or artistic ability if you opt to paint the entire look on instead. But that's all fine and dandy if you're an overachiever like me who loves being challenged to the point of physical, mental, and emotional exhaustion.
Still, there were some other logistics to consider. What if I realized I looked like a moldy potato once I had already tattooed my face? What if I didn't know how or where to place the tattoos according to my own face shape. Because this look requires a great deal of commitment and practice, I wanted a way to try the look on without actually having to try the look on, before even practicing it — a pre-practice round, if you will. Luckily, that's where YouCam comes in.
If you visit the app, you'll immediately notice there are a ton of different ways you can use it. You can upload a picture you've already taken and play around with your makeup. You can open your camera in the app and try on any one of their myriad of complete makeup looks, some of which are normal and some of which are special featured looks. Basically, you can try on any beauty ~lewk~ you're trying to achieve, to make sure it's actually something you like on yourself, before you go through the effort of doing the look IRL.
Naturally, I took this as a prime opportunity to see if my face could even stand up against Davis' Flower Skull creation, before purchasing temporary tattoos and going all in (something I'm prone to doing anyway). So, I opened the app, chose Davis' look, and, I'm not gonna lie, I was instantly sold because it looked so damn cool.
To access the look in the app, you simply tap "Makeup Cam" on the homepage, tap "Costume" at the top of the page, tap "Halloween" to scroll through tons of different spooky looks, and scroll until you find Davis' Floral Skull.
The app's technology captures both the general shape and finer areas of your face, allowing the makeup to mold to your face almost perfectly and move around as you move around as well. To any clever people out there whose Halloween plans are to chill at home watching scary moves and eating your weight in candy corn: YouCam is an ideal solution if you want to make people think you dressed up in an elaborate costume and makeup look, as it requires minimal effort on your part.
Me, though? Well, naturally, seeing myself in this look convinced me to purchase far too many temporary tattoos on Amazon ($7, amazon.com) and go all in. Full throttle. Balls to the wall. After all, All Hallows' Eve is fast approaching, and if I want this look to be perfect, I obviously won't have Halloween night be my first attempt. I mean, DID YOU SEE THE LOOK? DID YOU SEE THE SKILL? I HAD BIG SHOES TO FILL.
Luckily for me, and now for you, Davis provided Elite Daily with a step-by-step breakdown of how to recreate her Flower Skull look. Sounds easy, right? Right?? (Can you hear my nervous laughter in the distance?)
1. Ensure you have clean skin before beginning the makeup, [and] avoid greasy moisturizer.
2. Cut the floral decal transfer tattoos in the shape of a skull for one side of the face only.
3. Apply the decal transfers in the composition of a skull.
4. Apply foundation around the edges avoiding making over the decals.
5. Powder the skin.
6. Blush, contour, and highlight.
7. Next up is the eye makeup. Do a natural smokey eye and add lashes and an eyeliner.
8. Finish off with red lipstick on one side of the skull.
Per Davis' instructions, after cleaning my face and resisting my instinct to slather the thickest moisturizer all over my dry skin, I went to town with curating which tattoos worked for which area of my face and cutting some down to ensure they were the right shape. As with most temporary tattoos, the ones I used simply required pressing firmly on them with a wet cloth for about 15 to 20 seconds.
Looking at Davis' photo for inspiration, for my face, I used two small flower buds on my nose and chin, a fairly small flower along my hairline near my eye, a longer triangular flower shape spanning from my ear along my cheekbone, and a rounder flower for my eye area, which I cut in the center so it would frame around my eye. As you can see, the flowers on Davis' neck didn't need much trimming, so I took the flowers I had left and placed them strategically along my neck and décolletage.
Here's an in-progress shot, where one side of my face looked like the most beautiful secret garden of my dreams:
While the sensation of having temporary tattoos on my face felt a little unusual at first, my skin didn't really feel tight or taut. Also, it was nice to my able to touch my face without having to worry that I'd rubbed all my makeup off, as is par for the course with most Halloween makeup.
Now, in order for this Flower Skull to truly come to life, I noticed that I needed to add teeth to my look. I'm not sure if Davis painted the teeth in her look herself, or if she painstakingly placed teeny tiny leaf tattoos along her lips — in which case, major kudos to Davis because my patience could never. That said, I decided to paint the leaves on myself, after carefully blending foundation and powder on the areas of my face that weren't covered in tats.
To do this, I used my Morphe 250-1 Detail Liner Brush ($2.50, morphebrushes.com) and my Make Up For Ever Flash Palette ($99, makeupforever.com). For the leaf color, I mixed the green shade in the Flash Palette with a bit of brown, black, and yellow for depth. I then painted outlines of thin teardrop shapes with long, winding upper stems on both my top and bottom lip. I added in bits of white and red to the leaves to make them look a bit more dynamic, and because I'm a perfectionist who doesn't know how to quit, I painted a few more green and brown stems with reddish buds into the overall design as well.
Finishing off Davis' instructions, I made up the other half of my face, et voilà! An entrancingly spooky Flower Skull, at your service:
After peeping this comparison, I'm gonna shamelessly toot my own horn for a second, because I did not expect this to look so bomb on the first try:
Of course it's not exact, but still, you see the likeness, right?
You guys, I was so obsessed with this look that I kept it on literally all day, scared the bejesus out of most of my co-workers and took exactly 304,573,845 selfies in my office bathroom. All in a day's work, amiright?
OK, OK, let's talk about what I'm sure everyone here is thinking: HOW TF ARE YOU GONNA GET ALL THOSE TEMPORARY TATS OFF YOUR LITERAL FACE WITHOUT RUINING YOUR SKIN??? Fret not, friends. While most temporary tattoos come off instantly with rubbing alcohol, I certainly don't advise using such a harsh chemical on your face. Instead, try an oil-based cleanser to break down the tattoo and/or a heavy exfoliator to rid your skin of the smaller, stubborn particles left behind. I used DHC's Deep Cleansing Oil ($28, dhccare.com) followed by Dr. Brandt's Microdermabrasion Exfoliator ($78, drbrandtskincare.com). Fifteen minutes later, my skin was totally back to normal.
Although I was very lucky that my practice round went off without a hitch, having a way to see this look on myself without actually having to do it was a game-changer in terms of decision making and planning. Plus, even if I had ended up not liking Davis' creation on me, having so many looks to try on at my disposal would've made finding another look I loved super easy.
All this said, Halloween is 23 days away, fam. If you're still frantically searching for a major lewk to serve on this spooky night, selfie to your heart's content on the YouCam app if you're an indecisive maniac like me. And if you decide on Davis' Flower Skull, then run — don't walk — to grab your temporary floral tats in time for Halloween. Godspeed, spooky soulmates.