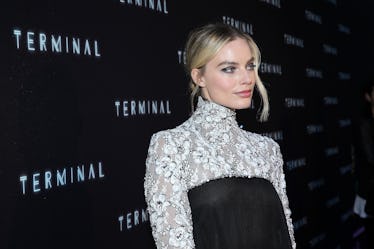 These Are 2018's Most Popular Halloween Costumes, According To Actual Statistics
Phillip Faraone/Getty Images Entertainment/Getty Images
We already know trends come and go in fashion and beauty, but believe it or not, Halloween turns out a handful of trends every year, too. While 2017 was all about the Stranger Things cast (I lost count of the Eggo boxes left behind at parties), 2016 was the year of Margot Robbie as Harley Quinn (when's the last time you saw so many pigtails at once?). When it comes to 2018's most popular Halloween costumes, you no longer have to sit and wonder, because some nice people did the legwork for you.
Pinterest and Lyst (the global fashion search engine) crunched the numbers, analyzed the data, and curated a list of their predictions for the top 10 costumes for this year based on all the things people have searched on their platform since January.
Honestly, I saw some of these costume ideas coming (the ones based on huge 2018 movies, at least), but there are a few wildcards in the list that are completely unexpected, but actually could be really cute. Scroll through for some Halloween costume ideas, some of which can be thrown together at the last minute. You have time now, but let's be real, I know you'll be scrambling for something to wear hours before your first costume party of the season. I always do.
1. Tonya Harding
I was floored when I saw Margot Robbie's first looks as ice-skating star Tonya Harding for her role in I, Tonya, so it makes sense people would be inspired to undergo their own transformation this Halloween. Pinterest has seen a wild 720 percent increase in searches for Harding, and Lyst data shows skater skirts and bejewelled leotards have been trending worldwide this year. Additionally, there has been a 43 percent increase in searches for scrunchies on Lyst since August. If you have an obsession with the '80s, an affinity for leotards and scrunchies, and love a good movie reference, this is the costume for you.
2. Riverdale Characters
Riverdale is part Twin Peaks and part Gossip Girl, so it makes sense that Pinterest saves for Riverdale costume ideas have spiked 316 percent this year, with Betty and Jughead amongst the most Pinned characters. What's more, fashion searches for Peter-pan collar tops, fluffy pink sweatshirts, Jughead-inspired beanies and fur-lined denim jackets have been increasing steadily on Lyst since August. The best part is you can get your entire friend group in on the fun.
3. '90s Icons
I live my life in the '90s so the idea that I'll run into Spice Girls, Britney Spears, and Christina Aguilera clones on the streets of West Hollwood this year makes my heart sing. There's been a 110% increase in Pins for 90s make up and costume ideas this year, while on Lyst searches for iconic 90s brands such as Buffalo, Sketchers, Tommy Hilfiger and Fila are up a combined 920 percent in the last 6 months. Halter necks, throwback logos, crop tops and chokers were amongst the most purchased fashion items this summer. If you have any of these hanging in your closet right now, you can repurpose them into an on-trend costume.
4. A Warrior of Wakanda
This one should come as no surprise — I mean, Marvel's Black Panther became the highest-grossing superhero flick of all time. Searches for Wakandan costume inspiration are up 504 percent. Pins of Princess Shuri are amongst the most popular, most likely because her half-moon braids and tribal markings are IRL beauty inspo. Lyst data shows sales of chunky gold cuffs are up 14 percent since June, which is obviously the ideal accessory to finish the look.
5. Flamingo
It seems random AF, but fashion searches including 'flamingo' have increased 105 percent this year on Lyst, with Pins saved up 77 percent on Pinterest. Additionally, pink co-ords, pink fluffy jumpers and pink leggings were all trending in the US this Summer and there's even a flamingo emoji in the pipeline for 2019. Actually, this one could be really cute!
6. Edna Mode
The long-awaited release of The Incredibles 2 this year has inspired thousands of shoppers to recreate Edna Mode's super chic character this October. Pinterest data shows a whopping increase in searches, while on Lyst, demand for heavy black round frame glasses is up 38 percent. A-line black dresses have been viewed more than 4,000 times since July. We knew she was the fashionista of the cartoon, but who would've thought she'd be such a trend setter?
7. Abba-Inspired Dancing Queens
A rumored 2019 digital reunion tour and the release of Mamma Mia 2: Here We Go Again is sparking a resurgence of Abba's iconic disco style. Lyst has seen a spike in searches for bold, colourful trouser suits, and searches for patterned flares have increased 210 percent since June.
8. Cosmic Fairy
Think etherial fairy meets Zenon: Girl of the 21st Century — the cosmic fairy is a new take on the been-there-done-that winged costume. Pinterest searches for all things astro are up 33 percent, while Lyst data shows that zodiac and constellation jewelry is trending worldwide. And with more than 10,000 searches a month globally for star-print dresses and tops, this one is a total given.
9. Cow
If you thought a flamingo was weird (I did!), this one might be even more bizarre. Pins on cow makeup and costume inspiration are up nearly 680 percent year on year. Lyst reports page views of cow print bodies, T-shirts, trousers and jackets are up a combined 138 percent in the last month alone. For group costume inspo, team up with cowboys, milk maids, and milkshakes to complete the look.