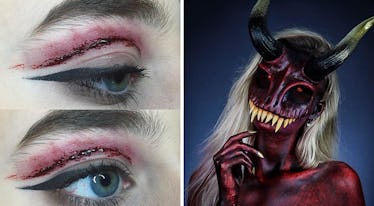 These Scary Halloween Makeup Ideas Look So Terrifying, You'll Forget They Aren't Real
@beautygonebad/Instagram; @simple.symphony/Instagram
As someone who has never sat through an entire horror movie and occasionally sleeps with the lights on when left home alone — I'm sorry, I know you didn't ask — I'm not exactly a fan of anything you might classify as scary. The only exception is the frightening yet mesmerizing world of special effects makeup, which has me beyond excited to look at scary Halloween 2018 makeup ideas. Even though I definitely don't have the skillset of a true special effects makeup artist, I still love to look to their wild creations as inspo when I'm prepping my own Halloween glam, and the results never disappoint.
Where do I find this special effects makeup inspiration, you ask? Where I find everything, of course — on Instagram. Thousands of talented makeup artists and SFX masters upload their work to the app daily, and I'm bookmarking all my faves this year so I've got the proper reference materials come Oct. 31.
One of my favorite makeup artists to Insta-stalk for scary-glam inspo is Ophélie t'Serstevens, whose special effects skills impress me (and terrify me) almost every time.
I also love that she often posts videos of herself creating the looks, like this dark inner demon that I'll definitely be having a nightmare about tonight:
Basically, if you want to do any scary looks using fangs or demon teeth, t'Serstevens is your girl:
If you'd rather celebrate Christmas over Halloween, you could always settle for this spooky happy medium, featuring bloody reindeer antlers, created by makeup artist Mykie of Glam&Gore on YouTube:
And what if you want an element of glam with your horror? I'm pretty sure makeup artist and photographer Daryna Barykina didn't intend for this bee-infested look to be Halloween inspo, but I would be absolutely freaked if a trick-or-treater approached me looking like they'd pissed off an angry hive:
If you're sick of seeing played-out costumes like sugar skulls and Harley Quinn, why not combine them for something new, creative, and haunting? This video by makeup artist Vanessa featuring an eerie, zombie-esque Harley is a great how-to for putting a new spin on some older staple costumes:
Are you one of those beauty-lovers who's all about a good bake? I'm still laughing at this 2016 Halloween glam by YouTuber James Charles, who jokes about baking to the point of burning — yikes:
The play on words is funny, but the result looks so terrifyingly real:
Texture and skin are some of the spookiest elements to distort for Halloween makeup, IMHO, and this lifted-skin look from YouTuber NikkiTutorials makes me squirm, if you know what I mean:
Maybe you're an eyeshadow gal? Please hold for the most frighteningly realistic bloody eye look I've ever seen: a true "cut" crease, done by Instagram's @beautygonebad:
If you want a spooky eye look that's a little less gory, this blood-splatter look by Grace Scarlett is a safe bet that still has major shock-factor:
Are you feeling spooky and inspired yet? Personally, I'll probably settle for a fab blood-splattered eye look and maybe a vampire-inspired dark lip, but kudos to those of you brave (and talented) enough to go big with your special effects creations. I'm scared of you, but I salute you and your Halloween costume dedication nonetheless!