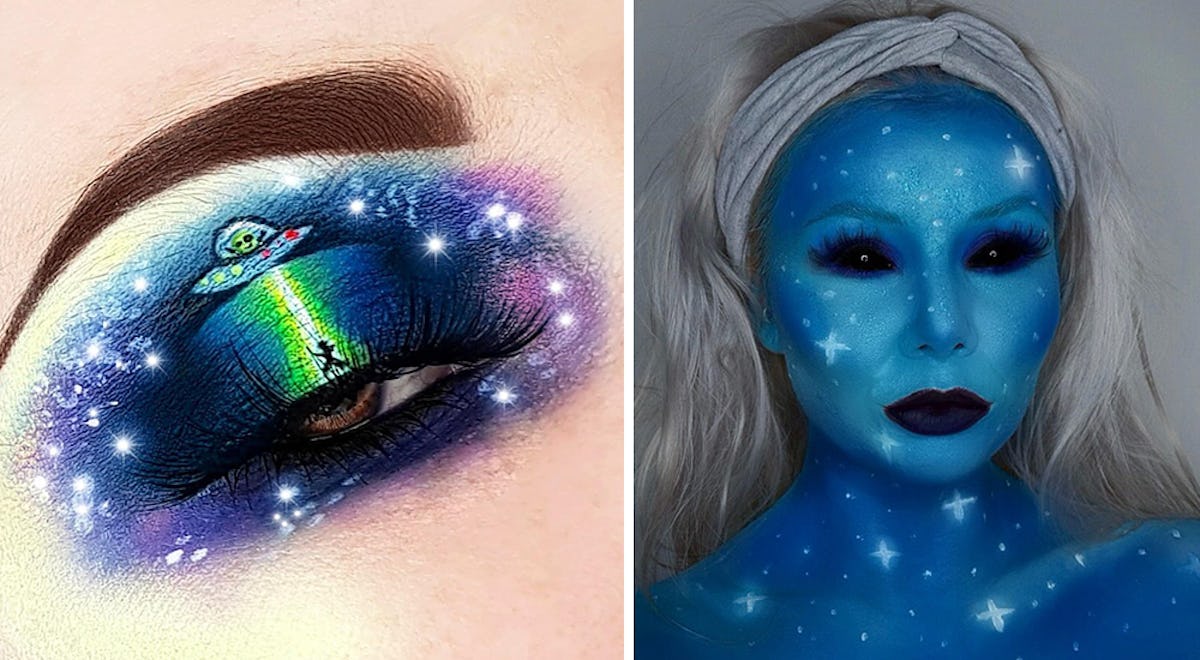 The Best Alien Makeup Looks For Halloween To Ensure Your Galactic Glam Is On Point
@tinklou86/Instagram; @ciaramackenziemakeup/Instagram
Is it too early to start brainstorming Halloween looks? Actually, hold that thought, because even though I really value your opinion, the only reasonable answer here is that it's never too early. That said, I've got a ton of costume ideas in the vault, most of which are inspired by the possible makeup looks I could create to accompany them. One of my most-searched this year has to be for the best Halloween 2018 alien makeup looks — because I'm trying to be out of this world fabulous, if you know what I'm saying.
When it comes to seeking out inspo for my costumes and makeup, a healthy Instagram stalk-session usually does the trick. I've already started multiple collections in my Bookmarks tab devoted to several different costumes, and it's keeping me equally inspired and organized, so I highly recommend. If you, too, are searching for alien glam in particular, then you're in luck, because I happen to be willing to share a few of my bookmarked faves below. Should we find ourselves rocking the same makeup at the same Halloween party, though, we need to agree right now to tell everyone else that our decision to match was intentional. I have a costume makeup reputation to uphold!
I've been an alien just once before, for a last-minute college Halloween party, where I had no costume and, therefore, had to rely on my extensive makeup collection. I kept it very galaxy-inspired, and TBH, it ended up pretty cute:
To make it look alien-esque, I added space buns (an authentic alien hair style, I've been told) and some silver foil to give my tediously blended makeup a galactic feel.
My purple-pink glam was almost kinda serving some Ariana Grande "God Is A Woman" realness, if I do say so myself:
Fast-forward two Halloweens later, and I'm ready to step it up — my makeup collection has expanded and my skill level has increased, and even though I'm no professional MUA, I'm turning to Instagram and YouTube's finest to give me some much-needed alien glam inspiration.
For anyone who wants a scary alien, look no further than this terrifying creation by Mykie from Youtube's Glam&Gore:
This special effects makeup is not for the faint of heart, and isn't exactly easy. Mykie created this look on Laura Lee in a video, and it's making me a weird combination of scared, impressed, and envious.
Should I go scary with my costume this year?
If you're looking for something a little less scary, but equally as extra, you could always pull a Patrick Starrr and create a silvery chrome alien that shines bright like a diamond.
Or a shooting star! Because space!
And if you don't actually have the time to commit, these subtle icy accents could spice up a simple alien glam, too:
Need a happy medium between "coated in body paint" and "small galactic accents?" This look by James Charles channeling amethyst crystals wasn't intended as alien glam, but it's downright celestial, and it's my personal fave of the bunch:
If we're talking glamorous aliens, though, Jeffree Star has been calling himself an alien for years thanks to his razor-sharp cheekbones and shaved-off brows.
Pretty much all of his browless creations serve fabulous alien realness, but I think the look drag queen Aquaria did on him in their recent video would go great with a metallic fit. I love the stars and the rainbow-gone-edgy shades:
Are you feeling overwhelmed? Don't be! The best part about going with an alien look is that it's totally customizable, and there's no wrong way to do it. We don't technically know what aliens look like (or if they're out there, but that's not today's discussion) so let your creativity run wild with this one. Pick your favorite colors and add some metallics, stars, or glitter, and you'll nail it.
Makeup artist Danielle Mara has done tones of different of alien-esque looks, and they're all fabulous in their own unique, galactic ways:
Another full-face look I love is this striking blue alien glam by makeup artist Ciára Mackenzie. The blackout eyes really complete the look, and I have that headband, which means I can successfully pull this off, right?
If you aren't a full-face alien, you can show off your detail skills and do an eyeshadow alien or UFO abduction look, like these by makeup artist Tink:
Want more of a dreamy, celestial look? This editorial, holographic squiggle glam wasn't intended as alien makeup when makeup artist Mitya Gribko created it, but I still think it could get the job done:
Especially if your alien comes from a planet where they love glitter:
And if you find yourself staying in on Halloween? I strongly recommend rocking some alien glam regardless, and treating yourself to either the GlamGlow GravityMud Firming Treatment ($59, glamglow.com) or their #GlitterMask GravityMud Firming Treatment ($59, glamglow.com), both of which look prettier than any alien glam I'll be able to recreate myself, TBH.
Hopefully you found some of my bookmarked alien makeup helpful, and if you've got some inspo saved up that's worth sharing, don't be stingy! Halloween is not as far away is it seems, and I need ample time to prepare (and, apparently, to stock up on metallics and glitter).