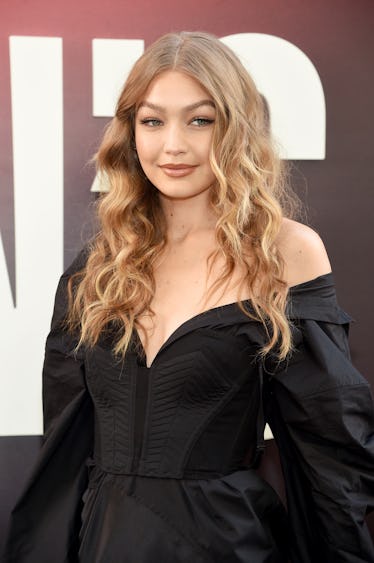 Gigi Hadid Was Made Into An "Illegal Alien" For A Fashion Ad & People Aren't Happy
Jamie McCarthy/Getty Images Entertainment/Getty Images
Another day, another problematic fashion shoot. This time, it comes in the form of a trendy mega brand's newest advertising rollout. Moschino's "illegal alien" campaign has the internet ablaze with accusations of insensitivity and tone deafness and honestly, it's pretty easy to see why.
Earlier this week, Jeremy Scott, the creative director of Moschino and founder of his own eponymous brand, took to his Instagram account to share snaps of his new Fall 2018 campaign for Moschino. Photographed by legendary creative Steven Meisel, the "Alien Nation" campaign features many of Scott's close supermodel friends including Kaia Gerber, Soo Joo Park, Gigi Hadid, Rianna Van Rompaey, and Vittoria Ceretti. Each model is dressed from head-to-toe in decidedly '60s-inspired designs (peep Park's pink skirt suit and your mind will immediately conjure images of Jackie Onassis' style), and equally retro-styled bobs top their heads. The most distinct aspect of the campaign, however, is undoubtedly that each model's skin has been painted an unnatural hue. Park and Hadid appear to have blue skin, Gerber is a shade of reddish orange, Van Rompaey is lime green, and Ceretti is a sunny yellow. They look, as you've surely deduced by now, like uber chic aliens and upon first glance the campaign is actually very stellar. It's the editorialization of the project that prompts red flags to be raised.
Although it's now been changed, the caption corresponding with Hadid's photo originally read, "The only thing illegal about this alien is how good she looks." Almost immediately, users took to the comments section to express their aversion to the caption, with one in particular catching Scott's attention:
In response, Scott responded with his own comment, which was later added to the caption itself:
"The entire concept of my ad campaign was to bring attention the U.S. administration's harsh stance towards 'illegal aliens'. I painted the models in my show and this campaign as a way to bring attention to this and discuss what exactly is an 'alien.' Are they orange, blue, yellow, green? No they are our friends, neighbors, co workers, relatives and people we love."
While it's respectable that Scott wanted to draw attention to America's current immigration crisis, people argue that his way of doing so actually undermines the very people who are most suffering from it, the very people he claims to be trying to represent. As put by one user,
"so why use white models to represent immigrants? Why use the highest paid models to make a point, for the fraction in poverty, instead of models of color that are unique and we'd actually enjoy seeing? You should really reevaluate this entire campaign. It was weak-minded and poorly administered."
Many other Instagram users expressed similar sentiments:
When things like this happen within the fashion industry it always begs the questions of one, how are brands still churning out tone deaf campaigns in this day and age with huge teams that must approve them? And two, are models aware of the context of the campaign when they sign the contract and shoot it?
It seems unreal that there wasn't a strong enough collection of voices at Moschino saying, "No, this is insensitive and could understandably offend many people," to have the editorialization of the campaign changed. In this day and age, it seems natural that someone within a large company would recognize that it might not come off well. It's equally as surprising to think that some of the most famous and therefore watched models wouldn't also take issue with such a campaign. Are they simply not told what the accompanying campaign text will be when they shoot it? Are they not told its context at all?
Regardless, one thing is for certain: the fashion industry, which holds so much power and is making so much progress in terms of inclusivity and equality, needs to step up and proactively ensure that the content it rolls out is not just woke, for lack of a better work, but can actually, legitimately affect positive change.