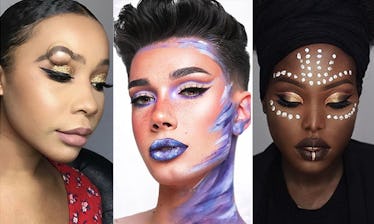 Ready Or Not, These Are The Biggest Halloween Makeup Trends For 2018
Halloween parties are packed with costume repeats. You can almost always count on finding a handful of red-faced devils, whisker-wearing black cats, and wrinkly witches wandering through the crowd. Those are the classics, the OG costume ideas that will never go out of style. But then there are the trendy ones — the costumes influenced by new movies and TV shows, social-media memes, and pop-culture happenings from earlier that year — which brings me to the 2018 Halloween makeup trends. These are the costumes (or better yet, the makeup looks) that will win every house-party Halloween costume contest this year. From the infamous fight between Cardi B and Nicki Minaj at the Harper's Bazaar Icon party to Ariana Grande's "God Is A Woman" music video look (you know, the one with all the paint), here are the Halloween costume makeup looks that are so 2018.
Cardi B leaving the Harper's Bazaar Icon party
The photos of Cardi B leaving the Harper's Bazaar Icon party during New York Fashion Week were the all over social media this September. She had been escorted out of the venue for getting into a fight with rap rival Nicki Minaj, but all anyone saw was this huge knot on her left eyebrow.
Cardi B's makeup otherwise was on point, so pile on the glittery eyeshadow, slap on a matte nude lip, throw on the fake eyelashes, and don't forget the bump on your eyebrow. Step into a red dress and get ready to sing, "be careful with me."
The Nun
One of the biggest horror movies of this Halloween season, "The Nun" is already providing tons of inspiration for makeup junkies.
A Warrior of Wakanda
Marvel's "Black Panther" was one of the biggest movies of the year (not to mention the highest-grossing superhero flick of all time), so this one should come as no surprise. You can expect to see a ton of makeup looks in honor of the Wakandan warriors.
Ariana Grande's "God Is A Woman" Music Video Look
You know the music video where Ariana Grande is laying naked in a pool of water with paint covering her body, her braid, and part of her face? Get ready to see painted bodysuits and side braids everywhere this Halloween. As for the makeup, not only does it look super pretty, it's also super easy to recreate.
Mrs. Incredible/Elastigirl From The Incredibles 2
Everyone's fave superhero family returned to the big screen this June, and it's sure to be a hit among friend groups and families this year.
Meghan Markle At Her Wedding To Prince Harry
She sparked a major hair and makeup debate when she walked down the aisle in St. George's Chapel at Windsor Castle. While some love her barely there makeup look and messy bun, others wished she had opted for a more polished look. The good news is you can recreate her no-makeup makeup look this Halloween without the help of a royal glam squad. Score!