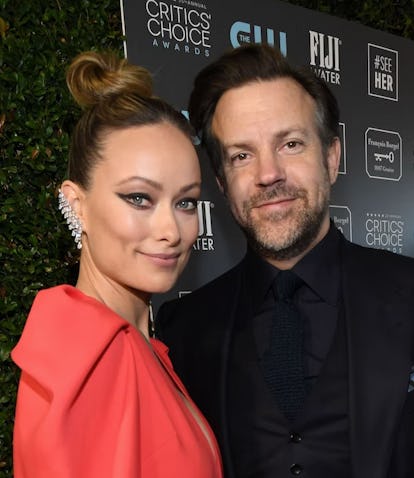 Elite Daily Newsletter: January 5, 2023
Inside Olivia Wilde & Jason Sudeikis' messy custody agreement, the spiritual meaning of the full moon, and more.
A version of this content appeared in Elite Daily's newsletter on Jan. 5, 2023. Why wait? If you like what you see, sign up to receive it in your inbox right here.
Olivia Wilde & Jason Sudeikis' Custody Agreement Sounds Messy
Back in November 2020, when Wilde and Sudeikis' breakup was first publicized, a source claimed things were still cordial. "It's been amicable and they've transitioned into a great co-parenting routine. The children are the priority and the heart of the family's relationship," the insider said. But, with the CinemaCon incident and the ensuing drama, things have gotten off track a bit. READ MORE
Here's The Messy TV Character You Are, Based On Your Zodiac Sign
As Marie Kondo once wisely declared, "I love mess." But if you prefer your mess to be fictional, never fear, we've got you covered. From Essex College to the White Lotus hotel to Nevermore Academy, it's fair to say that 2022 was a fabulously messy year for both new and already-beloved TV characters. READ MORE
TRENDING
Bella Hadid's Leg Workout Takes Only 15 Minutes
The Spiritual Meaning Of The January Full Wolf Moon
Jeremy Renner's First IG Since His Snowplow Accident Was Hopeful
Where To Buy International Delight Friends-Inspired Coffee Creamer
Antonia Gentry Loves Playing Your Messy Fave
If Antonia Gentry weren't an actor, she'd opt for a very different life. "Is there a job description for just owning a lot of cats and having a cat farm?" she ponders. "Can I start a cat farm?" Alas, Gentry's feline dreams are on hold (at least for now). Following the record-breaking success of Ginny & Georgia Season 1 in 2021, she's back at it again with Season 2, which deals with the fallout after Ginny uncovers her mom's murderous past and takes turns being poignantly heartbreaking and hilariously messy. READ MORE
Debra Jo Rupp Is Joining Agatha: Coven Of Chaos
What is "chaos" if not the slightly more sinister sister to "messy"? Kathryn Hahn's turn as Agatha in Wandavision was a highlight of the MCU, and now we get an extra special treat now that Debra Jo Rupp, who also appeared in the series, is coming back for more. Between Agatha and That '90s Show, we are fully in the midst of a Rupp-essaince and I am fully here for it. READ MORE
MORE FUN STUFF
If You're Into Astrology, You Need To Know About Human Design
EmRata Has Choice Words For Men Who Can't Handle Strong Women
Every Jennifer Lawrence Movie Performance, Ranked
14 Claw Clip Hairstyles That Look Effortlessly Chic
Get all this (and more) in your inbox — subscribe to the Elite Daily newsletter.