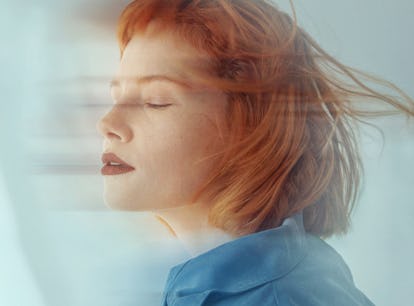 The Meaning Of The January 2023 Full Wolf Moon Is All About Nurture
Your emotional needs will be your top priority.
Nina Sinitskaya/Moment/Getty Images
If it's been awhile since you've had a good cry, brace yourself, because the first full moon of 2023 on Jan. 6 is bound to have you shedding a tear or two. While Capricorn season has been a time to prioritize logic, pragmatism, and discipline, the spiritual meaning of the January 2023 full wolf moon is encouraging you to feel your feelings, despite how irrational or fickle they may seem. The full moon is a reminder that you always instinctively know what you need in order to feel safe, secure, and comfortable, and there's no need to ignore your gut feelings. While making decisions that are rooted in reality can be beneficial, your inner compass is there for a reason — and your emotional needs deserve to be met, not neglected for the sake of appearing unbothered.
During this month's full wolf moon, the moon will be in its home sign of Cancer, meaning it'll be much easier to understand what you're yearning for. The moon governs over the internal desires others may not be able to see or cater to. In short, this full moon is nudging you to make your needs a top priority — because if you don't, who will?
What Is A Wolf Moon?
A wolf moon takes place when the moon is at its farthest point from earth, which is why its also commonly referred to as a "micromoon." Since the moon will be further away from earth (252,600 miles, as opposed to its average 238,900 miles), it may appear a bit smaller in size to the naked eye. But the term "wolf moon" comes not from the distance itself, but from the time of year it happens: During the winter, wolves supposedly howl at the moon more frequently for reasons like claiming territory or hunting for food.
When Does The January 2023 Wolf Moon Take Place?
On Jan. 6, 2023 at 6:09 PM ET, the moon will illuminate the sky at 16 degrees of Cancer, bringing emotional awareness and the need for comfort and security to the forefront of every zodiac sign's birth chart. As a cardinal, water sign, Cancer energy prompts everyone to pursue emotional contentment, and inspires intuitive action in order to ensure ultimate safety and pleasure. Since this full moon will be exactly opposing Mercury retrograde in Capricorn (which began on Dec. 30, and will end Jan. 18) these needs are bound to go against rationality and instead will be on a more moment-to-moment basis.
Cancer is the most impulsive water sign of the zodiac, and because of that, decisions made during this full moon may not be entirely thought out, but instead, will be based on how you're feeling at that particular time. While this full moon is great for becoming re-acquainted with trusting your gut, it may lead to some irrational action as well.
The Cancer-ruled house in your birth chart that this full moon highlights is where you'll be inclined to lean into your emotional needs, no matter how transient they may be (even if you don't have any planets in this house, you will still feel the full moon's effects). Now isn't the time to be self-critical, though — if you're yearning for something, there's likely a valid reason, and your inner compass is much more trustworthy than you may realize. Now is the time to trust your gut, even if it causes you to appear moody or inconsistent. Your wants and needs are valid, even if you're the only one that can fully understand them.