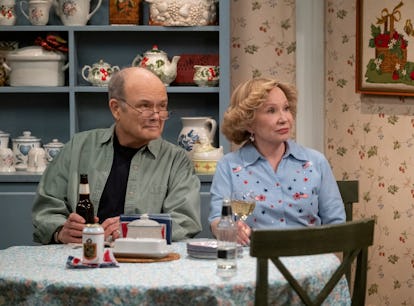 Netflix's That '90s Show Teaser Is So Nostalgic, It Hurts
Kitty and Red look exactly the same.
Patrick Wymore/Netflix © 2022
From the moment That '70s Show debuted on FOX in the late 1990s, fans have joked that it would be getting a spinoff series, simply due to the progression of time. Initially set in 1976, the running joke was that in Season 5 it would have to become That '80s Show. That never happened. (That '70s Show ran eight seasons, but ended just before Jan. 1, 1980.) However, Netflix has now greenlit a spinoff, set two decades later, called That '90s Show. Here's everything about the new spinoff series, including the release date, cast, and trailer.
That '70s Show always had a big fan following during its heyday, but it experienced a significant resurgence in 2020 thanks to the series conveniently streaming on Netflix amid lockdowns. The series introduced many actors who would go on to achieve A-list fame, like Mila Kunis, Ashton Kutcher, Topher Grace, and Wilmer Valderrama. Talks of a That '70s Show revival series began back in April 2018 when Kunis addressed the question during a CinemaCon event for The Spy Who Dumped Me. At the time, she said "maybe" the cast would reprise their roles. "I can't say 'no,' because we're all still very good friends, but we're all in such different places in our life," she said.
Although it took a few years, the spinoff is now officially confirmed. According to Deadline, on Oct. 8, 2021, Netflix gave the green light to the spinoff, promising to take fans back into the 20th century once more.
Here's everything to know about the series so far.
That '90s Show Trailer
The first official teaser for That '90s Show arrived on Nov. 29, 2022, revealing not only how much (and how little) has changed in the show's intervening decades, but also its January 2023 release date.
That '90s Show Cast
Even though That '70s Show started out as a series about Eric Forman and his friends, by the time the series ended, it was as much the story of Red and Kitty Forman, the anchors around which the kids revolved. That '90s Show will carry that throughline forward, with Kurtwood Smith and Debra Jo Rupp reprising their roles as the wise-cracking parents. Smith and Rupp are also executive producers on the show, along with its creators, series showrunner Gregg Mettler and Bonnie, Terry, and Lindsay Turner.
They'll be joined by a brand new group of teenagers, beginning with Callie Haverda as Eric's daughter, Leia Forman, who comes to spend the summer with her grandparents and ends up making a group of friends for life. Those new friends include Ashley Aufderheide as riot-grrrl Gwen, Maxwell Donovan as Gwen's brother Nate, Mace Coronel as flirty Jay Jay, Reyn Doi as snarky Ozzie, and Sam Morelos as straight-A student Nikki.
The series also features Andrea Anders as Sherri, Nate and Gwen's mom, who hangs out with Red and Kitty, their coffee, their couch, and their advice.
So what about Donna Pinciotti (played by Laura Prepon), Eric Forman (Topher Grace), Fez (Wilmer Valderrama), and the rest of the gang? All of the original cast of basement-dwellers were confirmed to return on April 30, 2022, with one exception. Grace, Prepon, Valderrama, Kunis, and Ashton Kutcher will all reprise their original roles in "special guest appearances," but Danny Masterson will not return as the stoner rebel Hyde. This isn't a surprise, given Masterson has been embroiled in intense legal battles over allegations of sexual assault in recent years.
Kutcher opened up about his and his wife Kunis' decision to return to their roles as Kelso and Jackie in the new series in a July 25 interview with Variety. "Mila and I were contemplating it," Kutcher said. "We thought, 'Listen, we're only in the position that we're in because of that show, so let's just go back and do this. We just went back and had fun for a week. It was so random and fun."
That '90s Show Plot
Here's the show's official synopsis:
It's 1995 and Leia Forman is desperate for some adventure in her life or at least a best friend who isn't her dad. When she arrives in Point Place to visit her grandparents, Red and Kitty, Leia finds what she's looking for right next door when she meets the dynamic and rebellious Gwen. With the help of Gwen's friends, including her lovable brother Nate, his smart, laser-focused girlfriend Nikki, the sarcastic and insightful Ozzie, and the charming Jay, Leia realizes adventure could happen there just like it did for her parents all those years ago. Excited to reinvent herself, she convinces her parents to let her stay for the summer. With a basement full of teens again, Kitty is happy the Forman house is now a home for a new generation and Red is, well... Red.
That '90s Show Release Date
That '90s Show arrives on Netflix with all 10 episodes on Friday, January 19, 2023.
This article was originally published on