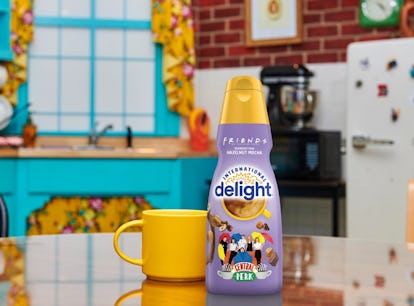 Where To Buy International Delight Friends-Inspired Coffee Creamer
All you're missing is the orange couch.
Courtesy of International Delight
Coffee can't cure everything, but the characters on Friends seem to enjoy the vibe at Central Perk so much that you've probably wanted to try a sip from the famed coffeehouse yourself. Well, now you can (sort of). International Delight's new Friends Manhattan Hazelnut Mocha coffee creamer launched on Jan. 3, and it was inspired by an actual drink — Manhattan Mocha — on the chalkboard at the TV show's hot spot. To finally live out your dream of being one of the gang, here's where to buy the new Friends coffee creamer.
Friends fans (and coffee fans) will be able to make their morning cup a little more exciting with a few splashes of the new creamer. No, Gunther won't be serving it to you, but you'll feel like you almost transported yourself to that iconic orange couch. International Delight's Friends Manhattan Hazelnut Mocha creamer has "hints of hazelnut, mouthfuls of mocha, and all the excitement of Manhattan," according to a Jan. 3 press release. TBD on what Manhattan's excitement will taste like, but as International Delight put it à la Joey Tribbiani in the press release: "Hazelnut? Good. Mocha? Gooood."
The Friends Manhattan Hazelnut Mocha creamer bottle comes in a purple color fans will recognize as the hue on the walls of Monica's apartment. As another nod to the show, which debuted in September 1994, silhouettes of the cast also appear on the bottle as an illustration with the orange couch and umbrellas seen in the show's opening credits.
True fans may contemplate finding the nearest fountain to sip their Manhattan Hazelnut Mocha by to really channel Ross, Rachel, Monica, Phoebe, Chandler, and Joey, but however you choose to sip it this creamer will be there for you when it's not your day, your week, your month, or even your year.
Where To Buy The Friends-Themed Creamer From International Delight
The Friends Manhattan Hazelnut Mocha is available as of Jan. 3. You can buy it in retailers nationwide for a limited time for $3.99 for a 32-ounce bottle, and it also comes in a zero-sugar version. According to International Delight, you can find it on Instacart and in Kroger stores, and it should be available on the company's website soon.
International Delight has previously partnered with Warner Bros. on creamers inspired by movies like Elf and Willy Wonka and The Chocolate Factory. With the companies' latest collab, you can sip your coffee like you're one of the gang.