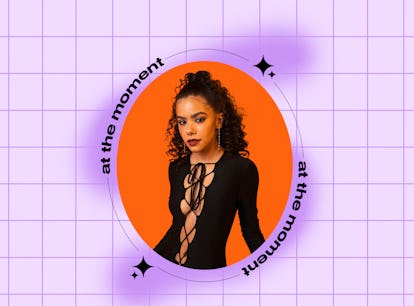 Antonia Gentry Loves Playing Your Messy Fave
The Ginny & Georgia star gets real about Season 2 and her growing fame.
Lindsay Hattrick/Elite Daily; Joelle Grace Taylor/Netflix
In Elite Daily's series At The Moment, celebs dish on their current projects, pop culture hot takes, and everything taking over their group chats. Below, Antonia Gentry discusses Ginny & Georgia Season 2 and her all-too-relatable New Year's resolution.
If Antonia Gentry weren't an actor, she'd opt for a very different life. "Is there a job description for just owning a lot of cats and having a cat farm?" she ponders. "Can I start a cat farm?"
Alas, Gentry's feline dreams are on hold (at least for now). Following the record-breaking success of Ginny & Georgia Season 1 in 2021, she's back at it again with Season 2, which hit Netflix on Jan. 5. The hit series began with Georgia Miller (Brianne Howey) moving her kids, Ginny (Gentry) and her younger brother, Austin (Diesel La Torraca), to the idyllic New England town of Wellsbury for a fresh start following some dark deeds. Season 2, which deals with the fallout after Ginny uncovers her mom's murderous past, takes turns being poignantly heartbreaking and hilariously messy.
"The show is fundamentally about flawed characters trying to pick their lives up and move on," Gentry says. Moving on is hard for Ginny, though, especially as she's trying to make it through heartbreak, friendship drama, and high school while her home life is turned upside down.
At 25, Gentry has a decade on her character Ginny. With more life experience comes more wisdom, which is all too valuable when navigating difficult situations in the public eye. Shortly after Ginny & Georgia Season 1 premiered, for example, Taylor Swift publicly called the show out for having Gentry's character make a "lazy, deeply sexist joke" about her. Gentry didn't directly respond to the criticism at the time, but now, it's clear she's given it a lot of thought.
"That's what happens with shows that just make people so emotional and attached," she says. "They stir up real conversations and make people feel all kinds of emotions, and I think it speaks to the imperfections of the characters for people to pay attention to and to help look inside of themselves and then see maybe some of those same traits might be there that they need to work on."
That's not to say Gentry has it all figured out, especially when it comes to her newfound fame. When asked what she wants her fans to know about her, she hesitates ("That's a good question because I don't know if I want them to know too much.") before deciding on her answer. "I just want people to remember that we're all human," she says. "I may play a character that's flawed or a character that's perfect or a character that's this or that, but at the end of the day, I'm just me. I hope they can feel like they can be themselves as well whenever they engage across my spaces."
Below, she divulges more about what's on her mind. (And yes, she brings up cats again... multiple times.)
This section has been edited and condensed for clarity.
What is your New Year's resolution?
Drink more water.
What's your favorite song to dance it out to?
Probably "Wanna Be Startin' Somethin'" by Michael Jackson or "Heart of Glass" by Blondie.
How do you take your coffee?
I love a good oat milk latte. Either that or black.
What's the first thing you do in the morning?
I unfortunately open my phone, when I should be drinking water.
What's the last thing you do before going to sleep at night?
Cuddle my cat while scrolling through my phone.
What is your favorite dish to cook?
I wish I cooked more, but I recently made a Texas-style chili that I got from The New York Times.
What is the last book you couldn't stop thinking about?
I recently read a biography on Zelda Fitzgerald, and it was incredible and sad.
What is your comfort-watch TV show?
Adventure Time — it's literally a cartoon, but it's the best thing I've ever seen.
What is your favorite winter activity?
If there's a fireplace, I'm going to be near it. I love hot toddies. Give me a hot fireplace, a book, and a blanket, and that's all I need to do for the winter.
What's the last TikTok that made you laugh?
There's a cat called Merv on TikTok, and he makes weird noises, and I love him.
What's a fictional town that you wish you could move to?
Hobbiton [from Lord of the Rings], but minus the danger of Sauron.
What is the most used app on your phone?
Probably my email. Or StreetEasy. I like looking at apartments.
What's the best piece of advice you've been given?
You can always forgive yourself if you fail, but you can't forgive yourself if you never try.
Who is your acting role model?
Adrien Brody. He's the reason I wanted to become an actor. He's phenomenal, and he has a cat that looks just like mine, and I think we should be best friends.
Who is your closest friend in the biz?
Sara Waisglass. I love her so much. She's my soulmate.
What do you love most about your 20s so far?
I love being able to decide for myself to do what I want. If I can want to go out, I can go out. If I want to stay in, I can stay in, and no one will question me. It feels very adult and it feels very, very cool.