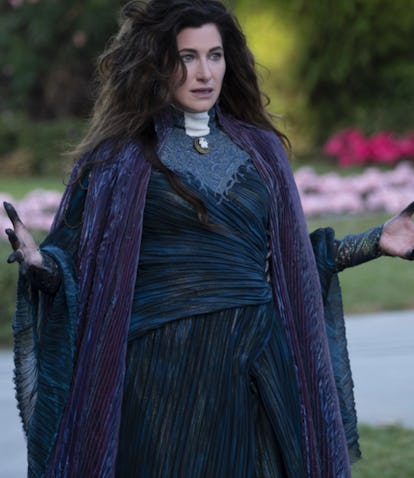 Agatha's WandaVision Spinoff Will Have A Parks And Rec Reunion
Aubrey Plaza as an evil witch... say no more.
Suzanne Tenner/Marvel Studios
As most fans know by now, it was, in fact, Agatha all along, and now she's getting her own Disney+ series. The nosy neighbor Agnes-turned-witchy villain of Wandavision is taking center stage with a spinoff series of her own. The Agatha Harkness-focused Disney+ show was announced on Nov. 12, 2021, as part of Disney Plus Day. The show was originally going to be called Agatha: House of Harkness, but at San Diego Comic-Con on July 24, 2022, the new official title of the series was revealed: Agatha: Coven of Chaos.
Variety first announced an Agatha-focused Disney+ show in development back in October 2021. Since then, Disney+ has confirmed that the Agatha series is coming soon, thanks to the Disney Plus Day announcement. Kathryn Hahn played Agatha on Wandavision — and was nominated for an Emmy Award for the role — and now she's confirmed to return to the role for the Agatha series. When Hahn's Emmy nomination was announced, she said in a statement:
While playing this role I learned how freeing it is to stand in your own power, and gained so much confidence in myself as a performer. I could not be more proud to be a part of this show and its bold storytelling.
With such a (literally) powerful character, it makes sense that Hahn is returning to tell more of her story. Here's everything you need to know about the upcoming Agatha series on Disney+.
Agatha: Coven of Chaos Cast
With the announcement of the new series came the revelation Kathryn Hahn would reprise her role of Agatha Harkness from Wandavision in the new spinoff Disney+ series. At the time, no one else was confirmed, not even Elizabeth Olsen, who plays Wanda Maximoff. However, rumors say Olsen recently signed a contract to keep playing Wanda in multiple Marvel projects. Also still unconfirmed: A possible appearance of Paul Bettany as "White Vision." His character is also getting a spinoff, Vision Quest, on Disney+, from the same team behind WandaVision and Agatha: Coven of Chaos.
It wasn't until October 2022 that anyone else was announced as part of the cast. That was when Emma Caulfield Ford revealed in a Vanity Fair interview she was booked to be part of the new series, reprising her role from WandaVision as Sarah Proctor, aka Wanda's alpha girl neighbor, "Dottie Jones" in Westview.
In November, Variety reported actor Joe Locke would also be joining the cast in an undisclosed role. Locke is best known for his role as Charlie Spring in Heartstopper, which Netflix renewed for two more seasons in June 2022.
On the heels of that announcement came another, as multiple outlets reported Aubrey Plaza will also be joining the cast. According to The Illuminerdi — which broke the story, Plaza, best known for her role in Parks and Recreation, which also featured Hahn — is joining the coven. This is Plaza's second time entering the Marvelverse, as she was formerly part of the cast of FX's Legion.
Agatha: Coven of Chaos Filming Updates
Marvel confirmed the Agatha Harkness spinoff in December 2021, with WandaVision's head writer, Jac Schaeffer, spearheading the new series. However, it took nearly a year before production got off the ground.
In October 2022, Hahn confirmed filming was finally getting underway for the new series. In a red carpet interview at the Chicago International Film Festival (above), Hahn told reporters, "We're in the middle of getting the coven ready, and it's gonna be very delicious. We start shooting in about a month."
Further details came in The Illuminerdi's article about Plaza joining the cast, revealing the 2022 filming was only planned to go for a couple of weeks before breaking for the holiday. Filming for the show will start ion earnest in January 2023.
Agatha: Coven of Chaos Plot
So far, there is no plot yet revealed about the new series, other than it's going to be another "dark comedy" from Schaeffer and feature Agatha's entire coven. With filming starting in November 2022, Hahn's series will be timed for the holidays, though closer to Christmas than Halloween. Could this be another Hawkeye-style Marvel holiday series? Time will tell.
Agatha: Coven of Chaos Teaser
So far, fans have only been treated to the image of the initially planned logo for Agatha: House of Harkness when the spinoff was first announced.
Since the title change, that original logo has been replaced by an updated version reading Agatha: Coven of Chaos.
Agatha: Coven of Chaos Release Date
Agatha: Coven of Chaos was announced at San Diego Comic-Con 2022 as scheduled for a winter 2023 release window on Disney+.
If you're looking for more Agatha in your life and can't wait for the new series, you can watch her in Wandavision, which is streaming on Disney+ now.
This article was originally published on