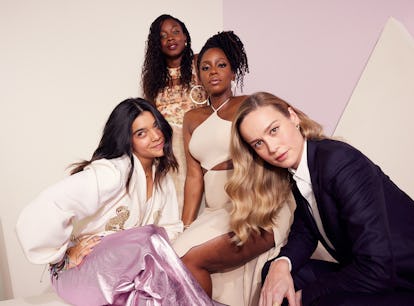 The Marvels Promises The Ultimate Female Superhero Team-Up
Corey Nickols/Getty Images Entertainment/Getty Images
Captain Marvel was part of a run of smash successes that formed the pinnacle of Marvel's The Infinity Saga. Even so, Marvel played things safe, having the film helmed by a co-directing team of Anna Bodn and Ryan Fleck, who also wrote the script. Things will be different for the sequel, titled The Marvels, with an all-women team behind and in front of the camera.
The Marvels is not just Brie Larson's return to the big screen, nor is it just the team-up of three female superheroes, including Photon and Ms. Marvel. The movie is being directed by Nia DaCosta, from a script penned by Megan McDonnell. DaCosta will be the first Black director and second woman of color to direct a Marvel Cinematic Universe feature film. (The first woman of color director, Chloé Zhao, led The Eternals.) DaCosta is best known for her work on the highly anticipated reboot of the horror movie Candyman, but most British TV watchers will remember her as one of the directors of the hit series Top Boy. Her coming aboard to run Captain Marvel's second outing, and the first all-female team-up film, promises this will be a heck of a ride.
Let's run down what else we know about The Marvels.
Captain Marvel, WandaVision, and Ms. Marvel are all streaming on Disney+, along with nearly all of Marvel's Phases 1-4.
This article was originally published on