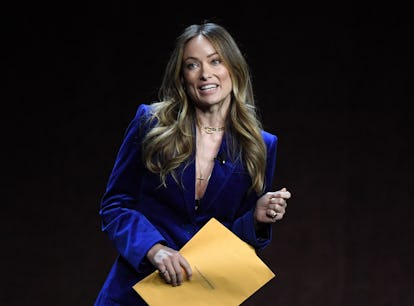 20 Wild Memes About Olivia Getting Served Custody Papers Onstage
I guess she *should* worry, darling.
VALERIE MACON/AFP/Getty Images
Apparently, onstage interruptions are in this spring. On April 27, Olivia Wilde presented her new film Don't Worry Darling at CinemaCon. (The movie, which stars Harry Styles and Florence Pugh, is widely believed to be where Wilde's romance with Styles first started.) But Wilde's speech was abruptly disrupted when she was surprised with an envelope labeled as "personal and confidential." The contents? Not an unsolicited script like she suspected. Apparently, Wilde was served custody papers from ex and co-parent Jason Sudeikis — and the memes about this awkward encounter are out of control.
"This is for me? Is this a script?" Wilde said after receiving the envelope. She looked over the papers, which multiple outlets have reported were legal documents pertaining to the custody of Wilde and Sudeikis' children, Otis and Daisy. Wilde recovered quickly though. "OK, got it. Thank you," she said before continuing with her speech.
But why was she served during her onstage presentation? A source claimed to People, "Papers were drawn up to establish jurisdiction relating to the children of Ms. Wilde and Mr. Sudeikis." But that doesn't mean that Sudeikis orchestrated the public spectacle. The insider continued, "Mr. Sudeikis had no prior knowledge of the time or place that the envelope would have been delivered as this would solely be up to the process service company involved and he would never condone her being served in such an inappropriate manner."
Even if there was no ill-intent from Sudeikis, the uncomfortable moment captured the petty heart of Twitter, and these memes are incredible (if a little ruthless).
Here's hoping the process server behind this moment is still employed!