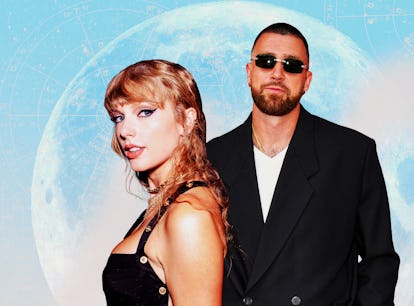 Alyssa Amoroso On What Taylor Swift's Hard Launch Era Means
The notoriously private singer is everywhere right now — and the Tea with Publyssity host says it's probably 100% intentional.
Whether you're scrolling your FYP, watching a football game, or heading to the movie theater, it's Taylor Swift's world right now. Since her breakup with Joe Alwyn was announced, Swift has infiltrated every industry — even the NFL, courtesy of her new romance with the Kansas City Chiefs' tight end Travis Kelce. It seems like the once highly private star is embracing life in the limelight.
Not only is the singer openly piling on the PDA with Kelce, but she also doesn't seem bothered that her GNOs with her new squad and hangouts with Mama Kelce on game day are all heavily photographed. It's all very public, begging the question: What does Taylor Swift's hard launch era mean?
For some expert insight into the Taylor-aissance, Elite Daily tapped @Publyssity, aka Alyssa Amoroso — an ex-entertainment publicist-turned-full-time influencer who regularly chats celebs, pop culture, and dating hot takes on her TikTok, Instagram, and podcast Tea with Publyssity. Below the self-professed Swiftie shares why she believes Swift's public appearances with Kelce are "absolutely intentional."
Elite Daily: It's early days, but what are your thoughts on Taylor and Travis' public image so far?
Alyssa Amoroso: I've always said Taylor Swift knows her power and her influence — she knows what we will and won't talk about. If Taylor wants to live a private life, we know she's able to do that because she's done it with previous relationships. So, she's intentionally pulling back the curtain by stepping out with Travis publicly. Do I think that it is calculated? Not necessarily, but if she didn't want us to see them together, we wouldn't see them.
It kind of doesn't make sense — which is why it makes a lot of sense.
ED: Why do you think she's being so much more public now?
AA: I could be completely off, but I'm getting the feeling that she wants that freedom of just living her life and being a girl that goes to a football game. I feel like she's tired of hiding because she spent so many years of her life in relationships intentionally staying off the radar. Maybe she's like, "I know it's going to drum up attention, but this is what's going to come with me being a free person and living my life publicly."
ED: Travis is also different than her past boyfriends. Do you feel like he's a good move for her?
AA: I think the first time that we saw her at that first game was probably one of the first times they've met. It's most likely way newer than we realize, and they're just having fun as a couple. It kind of doesn't make sense — which is why it makes a lot of sense. In the past, we've seen her with a lot of British guys, musicians, or artsy guys, and we've also seen him with a different type of woman — someone that's not as in the public eye.
They're kind of giving that high school love story of the cheerleader and the jock, which is why everyone's really rooting for them. Especially with the David Beckham documentary out now, people are kind of equating Taylor and Travis to David and Victoria. Victoria was the biggest pop star at the time, and David was the biggest athlete.
And they're both hot, they're both single. I don't know why they wouldn't be into each other. They're two of the most desirable people in pop culture. So why wouldn't they desire each other?
ED: When he was initially shooting his shot with the friendship bracelet, I didn't see it happening...
AA: Any girl is going to want a guy to publicly pursue them, even if it could be cringe or whatnot. But a guy like him who's so attractive, so tall, has such a great career — he won the Super Bowl last year — any guy like that publicly saying he's interested in you is going to give any girl the butterflies, and Taylor Swift's human.
When people are so famous and larger than life, sometimes we forget that they have human emotions just like the rest of us. I'm sure they're both probably a little bit giddy over each other and having those butterflies.
ED: As part of Taylor's hard launch era, she's also been stepping out with her girlfriends like Sophie Turner and bringing a big squad to Travis' games. What do you think this sudden visibility means?
AA: Initially, I was a little surprised by it. The last time we saw her hanging out in these big groups of girls, she got a ton of bad press and people started kind of turning on her, which in turn caused her to kind of recoil and go back into hiding. She was bringing people out on stage at her concerts and I feel like people almost got fatigue from seeing so much of her.
Obviously, that's not right, and that's really sad that that happened, but I was surprised to see her doing it again, given how the media has responded to that in the past. That said, I feel like she's in the part of her career right now where she's so beloved that she really can't do anything that would make people not like her.
ED: What do you think about her new squad?
AA: I feel like Taylor Swift knows everything she does at this moment is going to be a headline, so she's intentional about the people she hangs out with. I think she's authentically friends with those people, but I also believe she's intentionally using her power and influence to support women, which is really cool.
Like getting close to Sophie Turner when the media kind of turned its back on her, or befriending Brittany Mahomes when people just give her so much unnecessary hate. If she can help other women with their reputations, she's going to try to do it. I think that's pretty genius when it comes to working the system and the media.
ED: Speaking of Taylor going into hiding, what do you think about her private era with Joe Alwyn? Do you think it was really what she wanted?
AA: I would assume it was necessary and she needed to do it for her own mental health, because we see a lot of celebrities ebb and flow, and fame can become a lot for people. At that point, she probably wanted to live more of a private life, and she's probably in a healthier place now. She's older now, and I'm sure she doesn't regret that time at all.
I see a lot of people saying, "Maybe it was Joe's fault that she was hiding." I'm sure it was a decision they made together. I don't know whether that's true, but I'm sure, at the time, they did what they felt was right. And now maybe she wants something different for herself, which is OK. It's OK to change your mind.
We haven't seen someone demand the media's attention — the world's attention — like this in so, so long. She's got us all paying attention.
ED: Do you think Taylor will continue to stay in the public eye once the Eras Tour is over?
AA: I think she will always allow us to see the image she wants us to see. It's hard to say, because it depends on what place she'll be in a year from now. Will she want to go somewhere and write music and not be so public, because maybe that's best for her craft? Or is she happy being out there and loving the freedom? I do like this phase because we haven't seen someone demand the media's attention — the world's attention — like this in so, so long. She's got us all paying attention. I definitely think we've got at least another year or two of following her closely before she pulls away again.
ED: How do you think Taylor's public appearances with Travis compared to those with Matty Healy?
AA: They're way more public. With Matt Healy, it was more consumers at restaurants snapping photos of them that were leaked to the press. With Taylor and Travis, they're stepping out together. When she's at his games, we see her. They were at SNL and the after-party together. If they didn't want to be photographed together, they would take separate entrances or leave at different times in different cars.
They're not trying to hide this, which isn't a negative or a positive thing. It's kind of nice to see they're letting us in, but at the same time, I think it's really new, and seeing them together probably makes us assume that things are maybe more serious than they are. But I think it's important for people to realize they're probably a month or two into dating. This is probably super, super new, but they're definitely not trying to keep us guessing.
ED: Even before Travis, we started to see so much more of Taylor out in public after her breakup with Joe, almost like a post-breakup glow-up. What do you think about celebs using breakups as a personal rebrand?
AA: Everyone kind of rebrands after a breakup. It's just a thing humans do where you want to level up, whether it's to make yourself feel better or it's because you finally feel free and able to. But when celebrities do it, we can be on that journey with them and see it all unfold.
You can go kind of a little bit of the more casual, messy route, like Emily Ratajkowski, who was in her single era posting pictures on Instagram and sneaking kisses with Harry Styles and Pete Davidson. That was just fun, flirty, and like, "I'm back out there not taking things too seriously."
Then there's the slow rollout, which we kind of saw Kim Kardashian do with Pete Davidson, where they very slowly introduced the relationship into the public eye. There's really no right or wrong way, but the more you give them, the more people will talk.
This interview has been edited and condensed for clarity.