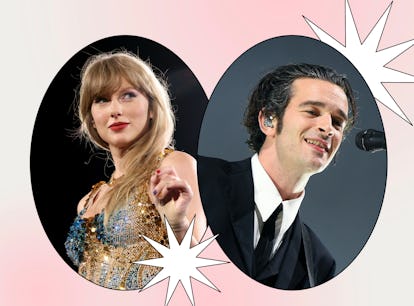 Taylor & Matty's NYC Date Night Was Like A Taylor Song
"Take my hand, wreck my plans, that's my man."
John Shearer/TAS23/Getty Images Entertainment/Getty Images; Matthew Baker/Getty Images Entertainment/Getty Images
Nothing like a date at Casa Cipriani to kick off a new romance. The exclusive NYC restaurant is a favorite of celebrities, apparently Taylor Swift and Matty Healy included. On May 11, Swift and Healy were photographed on a date night there.
According to a Page Six source, "they sat next to each other at a banquette in the lounge," and they were spotted "kissing." Kissing! In public! Is this the same person who wrote, "Romance is not dead if you keep it just yours"? This isn't just another unsubstantiated rumor, either. A Swiftie's dad took a photo of Swift and Healy leaving the restaurant, holding hands.
Speculation surrounding Swift and Healy started on May 3 when The Sun reported the duo was an item. "She and Matty are madly in love. It's super-early days, but it feels right. They first dated, very briefly, almost ten years ago but timings just didn't work out," a source claimed. "They are both massively proud and excited about this relationship and, unlike Taylor's last one — which was very much kept out of the spotlight, deliberately — she wants to 'own' this romance, and not hide it away."
At first, the dating rumors seemed to be just that: rumors. But then Healy started showing up at Swift's concerts — and Swift seemed to give him a subtle shoutout. "This one is about you. You know who you are. I love you," she mouthed to the crowd during her May 5 show. The words are an exact copy of what Healy said to his audience during a 1975 concert only two days earlier.
That's not all. Per the Daily Mail, on May 6, Healy was spotted getting coffee with Swift's bodyguard at a Starbucks near her home in Nashville. (Starbucks lovers, anyone?) The next day, Healy and Swift were photographed arriving at her Nashville condo at 12:30 a.m.
Seems like getting back with your ex isn't always a bad idea. As Swift once sang, "These hands had to let it go free and this love came back to me."