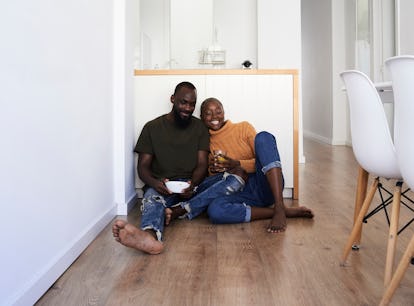 9 Important Questions To Ask Your Ex Before Getting Back Together
"Are you willing to work through problems from our past?"
Do you miss your ex sometimes? As the weather changes, do you remember visiting amusement parks with them and eating their fried dough (the food, obviously — I don't know what you were thinking of). Would it ever cross your mind to get back together with your ex? Depending on the relationship, it could be the right move for you. Relationships can end for a variety of reasons, but that doesn't necessarily mean the people weren't meant to be partners. So, getting back with an ex could definitely be a good idea for some. But before you prepare a list of questions to ask your ex to get them back, make sure you've thought through the implications of this decision.
If you do want to get back together with your ex, it can be helpful to communicate about why the relationship ended the first time around. It's better if you both put everything out in the open to avoid falling into old patterns and mistakes. After all, your relationship did end at least once before, so you want to make sure you don't end up with deja vu. If you've been missing your ex and want to give the relationship another chance, it could be worth reaching out to them, but only when you're ready.
Before you do, read on for nine critical questions to ask your ex boyfriend or ex-partner before you reunite.
Getting back together with an ex can be the right move for many. You liked them once, so why wouldn't you like them again? But before you dive back in, it can be really useful to ask them a few questions to make sure you're starting out on the right foot. "If two people can choose each other ... with a clear and grounded understanding of their past, present, and future, then a relationship together could really be the next best move," Trescott says. And if it doesn't work out, that's totally OK too — you will find the person you're meant to be with. Asking questions upfront ensures that the doors of communication will be wide open, whether you decide to move forward or not.
Experts:
Chelsea Leigh Trescott, breakup coach and podcast host of Thank You Heartbreak
Monica Parikh, dating and relationships coach at School of Love NYC
Trina Leckie, breakup coach and host of the breakup BOOST podcast
This article was originally published on