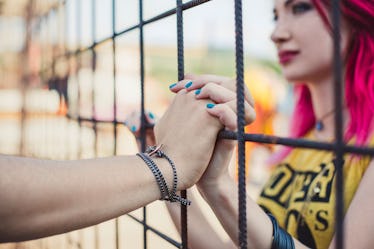 4 Signs You & Your Partner Can't Overcome Your Differences, So It'll Never Work
As the old saying goes, "opposites attract" — and it makes a lot of sense if you think about it. If the idea is to achieve balance in a relationship, then having two individuals with opposing traits should be a positive thing, right? In an ideal world, having different strengths, interests, and personalities would achieve that sought after yin and yang. But is it possible to be too different from your significant other? What if you can't overcome your differences with your partner? At what point do you reconsider your compatibility?
Contrary to that proverb, research has shown time and again that we actually tend to end up in relationships with people who are more like us. One 2014 study, for example, revealed that couples with more similar personality traits are more satisfied in their relationships than those who are more dissimilar. Of course, there are some areas in which it might be beneficial to be different from your partner. For example, having two high-strung individuals might actually not be a good thing — if one person is more easygoing, it may be easier to prevent anxiety from constantly escalating. Also, if two people in a relationship are both stubborn, it may prove much more difficult to resolve conflicts. Then there are the differences that simply don't matter. Maybe your partner is obsessed with basketball, and you'd honestly rather watch paint dry than spend five minutes watching an NBA game. Or, you live for spicy food and your partner avoids hot sauce like the plague. These are all minor things. They will not make or break a relationship, just the way sharing taste in music or movies won't make your relationship, either.
On the other hand, experts say there are certain disparities that can challenge a relationship from growing or succeeding. Here are some red flags that you and your SO may not be able to overcome your differences.