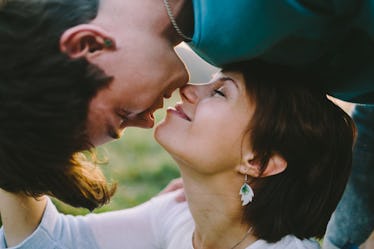 6 Red Flags There's No Compatibility In A Couple, According To Matchmakers
Finding the person you're supposed to be with is hard. Remember that scene in How To Be Single when Allison Brie's character demonstrated "finding her peanut" in the bar? That scene still haunts me, because it's so eerily accurate. You can spot a cutie at a bar and hit it off, but that still doesn't mean you're meant to be. However, knowing the red flags there's no compatibility in a couple from the very beginning can help you find your peanut without wasting any more precious time.
Now, I'm a firm believer that love isn't a science. Sometimes people just click, and it's like they were fated. What can I say? I'm a romantic. But, compatibility is a thing, and according to Caroline Millet, Seattle-based Three Day Rule matchmaker, compatibility is actually a pretty romantic concept. "It means harmony, a like-mindedness between two people," Millet tells Elite Daily. "We generally view it in terms of beliefs, values, shared experiences, mindset, and interests."
So really, compatibility is like that magical, fated, feeling — but one that can be quantified, almost. Fortunately, finding compatible people is what matchmakers do, so I reached out to some of the very best for the inside scoop on how to tell that a couple just isn't as compatible as you might think.