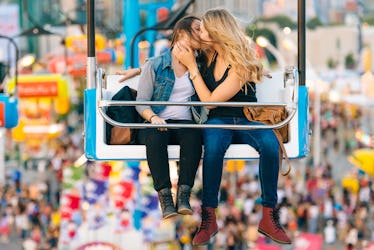 8 Early Signs That The Person You're Dating Now Is Right For You In The Long Run
There are a number of clear signs you're compatible with someone in the long run. Luckily for you, many of these indicators appear early on in a relationship. As you've probably experienced, there are times when you can tell from the very first drink whether or not you'll go on a second date with that person. Other times, it takes a few weeks or even months of dating to fully recognize the signs you're not on the same page. But if you know what to look out for, you're much more likely to notice both the indicators of long-term relationship success and the red flags that mean you're not an ideal match.
If you're wondering how to distinguish a flirty crush or a passionate hookup from someone you can see an actual future with, listen up. I've listed eight early signs of compatibility that could mean the person you're dating is someone you'll be with for a long time — maybe even forever. With a little help from a relationship expert, I'm breaking down what it means to truly be compatible with someone long-term. I'm talking physically, emotionally, and intellectually, because all three are equally important when you're looking ahead. If you can relate to most or all of these signs, then you just might have found the one.