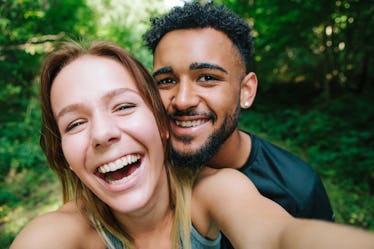 5 Signs Your Relationship Is Amazing, According To A Couples' Therapist
When I'm in a relationship, I have a terrible habit of comparing my situation to that of other couples. Sure, I can blame social media for this (enough with the engagement posts, guys) but I know it's more of a personal problem. I'm always looking for reassurance that my relationship is healthy and successful but for some reason, I find myself searching for answers outside of my relationship. The truth is, only you and your partner can know if you're in a great relationship which means that any signs of an amazing relationship will probably be right in front of you.
If, like me, you're absolutely terrified of missing these signs, my first piece of advice is to stop putting so much pressure on yourself. If you're happy in your relationship and you are excited to spend time with your partner, things are going just fine. In my past relationships, I would get so carried away with wanting to prove that my partner and I were as happy as every other couple we knew (and even some Instagram couples we didn't know personally) that I forgot to just be happy. You and your partner don't have to be like that couple that wore matching clothes for 37 years to be happy, although you can totally do that if you want.
The point is that your relationship happiness should be on your own terms. It may not always be an Instagrammable moment but if it's a moment that brings a smile to your face or makes you super grateful for your partner, it's worth noting.
I spoke with Dr. Gary Brown, a Los Angeles relationship expert who works with dating singles and couples, about how to tell if your relationship is a happy one. According to him, these are the five major signs to look out for.