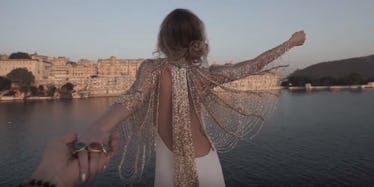 Famous Hand-Holding Couple Explains What Goes Into Their Instagram Pics
YouTube
There's a seemingly endless amount of dreamy couples who showcase their journeys around the world on social media.
But, when it comes to giving us a serious case of wanderlust along with some high-reaching #RelationshipGoals, no nomadic couple can top Murad and Nataly Osmann.
You may know these newlyweds for their #FollowMeTo photo series on Instagram, which captures Murad holding his gorgeous wife's hand as she leads him on all sorts of grand adventures across the globe.
Remember when I gave you a glimpse of their mesmerizing travels through India?
Well, if those stunning snapshots took your breath away, you'll be glad to know the couple captured more than just photographs while visiting this captivating country.
The two recently posted a video on YouTube that gives you a behind-the-scenes look at their trip and reveals what goes into capturing all of their signature hand-holding images.
The whole process looks pretty incredible, and seeing these two in action will definitely inspire you to find a bae, pack your bags and head to India, hand-in-hand, of course!
Check out the Osmanns' #FollowMeTo India video above for a closer look.
Citations: The Photographer Who "Follows" His Wife Around The World Just Revealed How He Does It (BuzzFeed)