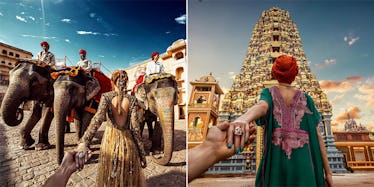 Famous Hand-Holding Couple Went Back To India And The Photos Are Amazing
Megan Smith once said,
I could conquer the world with one hand, as long as you're holding the other.
If there's one couple who really seems to live by these words, it's Murad Osmann and Natalia Zakharova.
You may know these two as the infamous hand-holding couple who snaps pictures while exploring every corner of the Earth.
Remember when we showed you all of those breathtaking photos from the couple's last trip to India?
Well, if you thought those were pretty awesome, you'll be glad to know the newlyweds recently returned to this country, and the hand-holding photos look more impressive than ever.
Seriously, if this perfect couple doesn't give you a case of wanderlust, I don't know what will.
Take a look at the pictures below to see Osmann and Zakharova's amazing travels.
Meet Murad Osmann and Natalia Zakharova.
These two are known for snapping stunning pics as they travel the world...
...hand in hand, of course!
Since Osmann started the #FollowMeTo series on Instagram several years back...
We've seen them take on all sorts of ancient cities and exotic locales...
...and we even followed these two down the aisle on their wedding day.
Not too long ago, we gave you a glimpse of their magnificent travels to India.
If you're wondering what these two have been up to lately, you'll be glad to know the couple returned to this charming country.
So far, Osmann and Zakharova captured photos on the Chand Baoli Step Well in Abhaneri village...
...and checked out the sights in Varanasi, India.
There's no telling where they'll take us next.