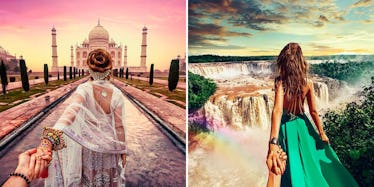 The Famous Hand-Holding Couple Is Back With Stunning Photos From India
Instagram
Whenever you're visiting another city or country, there's always one thing you must bring: your camera.
But Murad Osmann and his girlfriend, Natalia Zakharova, don't only bring their cameras; they also bring each other. Thanks to their incredible photos, this famous hand-holding couple built an Instagram following of over 2.3 million people.
That's a pretty big increase from when we introduced them to you in December 2013.
And it's for a good reason, too! Murad and Natalia are known for their famous "Follow Me To" photo series where Zakharova poses with her back facing the camera and Murad holds her hand behind her.
Since perfecting the iconic pose together, the two traveled the world, visiting places like Rio de Janeiro, Miami, Jordan and Barcelona. Most recently, they visited India, and their photos from the trip are breathtaking.
If you've ever needed any inspiration to pack your bags and see the world, this should do the trick!
Check out the photos below for a closer look.
By now, you've probably followed the Internet's favorite hand-holding couple on Instagram. If you haven't, you should!
They're known for the creative photos they take while traveling the world. This shot was captured in Rio de Janeiro.
Murad and Natalia have also visited New York...
Hong Kong...
Miami...
Barcelona...
Jordan...
Bali...
...and, most recently, India!
What made this particular trip so special for both Murad and Natalia was the culture behind each photo.
From the places they visited, to the outfits Natalia wore, the couple went all out when traveling from Delhi to Udaipur.
They also traveled to Varanasi and Jaipur.
Overall, Instagram's famous hand-holding couple wowed us once again with stunning photography.
Keep up with them using the #FollowMeTo hashtag!
Citations: This Dude Who Photographs His Girlfriend Around The World Has Outdone Himself In India (BuzzFeed)