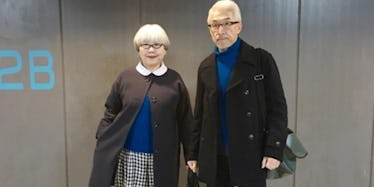 We Should All Aspire To Be Couple Who Matched Outfits Every Day For 37 Years
Instagram
How do you picture your old age?
Maybe it's going to a park to feed the ducks, playing a few holes on the golf course or playing with your grandchildren (if you weren't so scared of commitment, LOL, but seriously).
Or maybe it's you and your wrinkly bae beautifully color-coordinating your outfits every day and looking freaking fantastic.
Meet "bon" and "pon," which are the cute pet names for this perfect couple from Japan.
Not only are they super cute, but for 37 years the couple, now in their 60s, have worn perfectly matching outfits.
And recently, they've started documenting their amazing sense of style on Instagram.
People love it, and I'm not surprised at all.
They've racked up more than 105,000 Insta followers from just 84 posts, which is the kind of social media success we're all searching for.
"Pon" is probably the most fashionable grandma in the world because let's face it — bro isn't picking out his own clothes.
I'm just going to assume this is straight-up couple goals if you're a girl, but man, I would hate to be the guy in this situation.
Imagine not being allowed to choose what you wear every day. Sometimes a dude just wants to rock out in sweatpants, you know?
Is this the look of a man who is completely content with life, or are his eyes silently screaming for help?
I literally can't tell.
I have to admit, they do look amazing, though.
And because their adorable personalities match up with their sense of style, they often reply to compliments saying "thank you," though that might need to stop now that they have well over 100,000 fans.
Whether they're wearing a checkered pattern, busting out some tartan or just rocking a pullover, the couple, who got married in 1980, are always on fleek.
If you have major fashion inspo from reading this post, you can follow them and get some matching tips at bonpon511.
Oh, and blink twice if you need to be rescued, dude.
Citations: Cute Couple Have Worn Matching Outfits Everyday For 37 Years (LadBible)