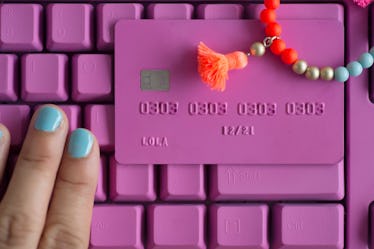 What You Should Snag On Cyber Monday This Year, According To Your Zodiac Sign
Look, I love a good deal as much as the next person, but I'll be honest: I'm not a huge fan of Black Friday shopping. When I'm done with Thanksgiving dinner, all I want to do is crawl into bed, sink into my food coma, and do absolutely nothing. Waking up at the crack of dawn to bundle up in the cold weather and battle hordes of cranky shoppers is definitely not on my mind. Since coming to this realization, I've accepted my fate as the lazy lady who has to miss out on all the irresistible holiday sales... until I discovered Cyber Monday, that is. This is the answer for every die-hard online shopper! We get to stay home in our pajamas and click "add to cart" until our eyes are weary from the computer screen. What could possibly be better than that? If you're in need of some guidance, take a look at this comprehensive list of what you should buy on Cyber Monday 2018, according to your zodiac sign.
I don't know about you, but I'm all about that warm and fuzzy feeling I get when I buy something. When you're online shopping, you get to experience that feeling twice: When you click "complete purchase," and when the packages arrive at your doorstep. So keep your credit card close and your inner-shopaholic closer, because Cyber Monday is almost here.
Aries
You're a sporty athlete down to your core, Aries, and Adidas' Cyber Monday deals will have your Mars-ruled heart swooning. No joke, you can get up to 50 percent off and there are 58-pages worth of deals. Jog over to your computer.
Taurus
Everyone knows a Taurus is obsessed with having good skin, so this Cyber Monday deal from Kiehl's was definitely made for you. You can buy the Best of Kiehl's Set for $39, which has an overall value of $66. Lather up, baby.
Gemini
Be honest, Gemini: How often do you rummage through your messy closet, thinking "I've got nothing to wear"? Wonder no more, because everything is 30 percent off when you shop H&M online during Cyber Monday. Grab your credit card.
Cancer
I'm a Cancer rising, and one thing I can't resist is comfy clothes. Even if I'm not working out, I'm definitely opting for a soft athleisure look. Outdoor Voices has an incredible Cyber Monday deal in which you can get 40 percent off on select styles.
Leo
You definitely don't want to miss Snapchat's Spectacles 2 Cyber Monday deal, because it helps you update your story instantly. Get this incredible gadget for just $60 to $139, because it usually retails for $199. Plus, who actually has one of these? You'll be the talk of the town.
Virgo
Even on Cyber Monday, we all know you're scrambling for the absolute cheapest deal. So what's better than free? In fact, you can get a free $10 gift card from Target after spending $50 on products from Olay. How sweet is that?
Libra
What could be more tantalizing to this romantic Venus-ruled air sign than makeup? On Cyber Monday, you can save 20 percent on your entire purchase at makeupforever.com, as long as you spend at least $100 (and we all know that'll be easy).
Scorpio
You Scorpios are forever loyal to your favorite brands, and chances are, you've never stopped loving M.A.C. Did you know that you can get 25 percent off of almost all M.A.C. products on Cyber Monday? Just make sure you're a M.A.C. Select member first.
Sagittarius
You're an adventurer at heart, Sagittarius, and I bet the winter blues have got you wanderlusting. Why not take advantage of these amazing Cyber Monday travel deals? Go to Curtain Bluff in Antigua for 20 percent off or save up to 40 percent off staying at The Don CeSar in St. Pete Beach.
Capricorn
You're a classically traditional fashionista, Capricorn, and if you loved Abercrombie and Fitch then, you'll love it now. Especially on Cyber Monday, because everything will be 50 percent off online (with an additional 15 percent off on outerwear). Just make sure you're an A&F Club Member.
Aquarius
You know you just want to bring your everyone together, Aquarius, so why not take advantage of Baskin-Robbins Cyber Monday deal? You can order a free red velvet cake sample online from 3 p.m. to 7 p.m., so why not? Everyone loves cake.
Pisces
We all know you can't resist something that sets the spiritual mood, Pisces, so why not snag some of Diptyque's aromatic candles? On Cyber Monday, you can buy their famous full-size Baies candle for just $75.