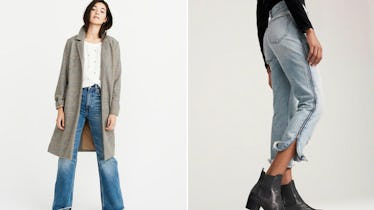 The Abercrombie & Fitch Black Friday Sale Is Epic & Your Wallet Will Be Hyped About The Deals
Few trends from middle and high school have stood the test of time. Gone are the days of crimped hair and Sharpie-colored-on nails — beachy waves and acrylic claws have taken their place. But despite the constant changes in the fashion scene, one brand that has truly maintained its coolness since day one is Abercrombie & Fitch. (You just knew you were on-trend if you wore anything with the moose on it — am I right?) So, for all of my A&F fans out there, the Abercrombie & Fitch Black Friday 2018 sale is quite the treat — and your wallet will be hyped about the deals.
On Wednesday, Nov. 21, A&F Club Members can get early access to their 50 percent off in-store and online sale. (It's free to join!) If you're not an A&F Club Member, you can get 50 percent off in-store and online merchandise from Thursday, Nov. 22 through Sunday, Nov. 25.
Shopping early on Black Friday will grant you an exclusive doorbuster sale to get sweatshirts and sweatpants for just $25. If you shop on Cyber Monday, only select styles will be up to 50 percent off in-store merchandise, but everything that's online will be 50 percent off. Plus, you'll get an extra 15 percent off outerwear.
Like many of our beloved brands that have stood the test of time, Abercrombie & Fitch has updated their style to reflect what's current with today's trends. The brand offers quality basics, cozy flannels, Insta-worthy outerwear, and boho chic dresses — all the essentials you need for a trendy night out with the girls, or a chill weekend getaway with bae. (And if you haven't tried their jeans, you must, because they will seriously change your life.)
Needless to say, if you're in the market to update your wardrobe with the coolest finds of the season, make sure you add Abercrombie & Fitch to your Black Friday shopping list. Here are some recommendations on what to buy.
Boucle Cardigan — Cream
Original Price: $68
Discounted Price: $34
Get comfy-cozy in A&F's super soft boucle cardigan. It's light enough to wear year-round over a tank top, but still fuzzy enough to make you feel like you're curled up next to the fireplace. Plus, the "popcorn cardigan" style is on the rise, so you'll be right on-trend by adding this to your wardrobe.
Chambray Shirt — Light Wash
Original Price: $68
Discounted Price: $34
Every gal needs a good chambray shirt in her life, and this relaxed cut is really speaking to me. The light wash is perfect for every occasion — from wearing it over your bathing suit to completing your all-denim look.
The A&F Dad Coat — Brown Houndstooth
Original Price: $220
Discounted Price: $110
If you're like me and love oversized outerwear, the A&F dad coat is the jacket for you. It comes in a variety of different colors (including fire engine red and light purple), but I'm particularly loving this houndstooth version. It's a great complementary piece to an all-neutrals wardrobe, and adds enough pop so your outfit selfie makes a chic statement on the 'Gram.
High Rise Mom Jean — Light Wash
Original Price: $88
Discounted Price: $44
Let's be honest: You'll look effortlessly trendy in these high rise mom jeans. This particular pair has fun zippers that go up the sides so you can play around with length, and it's slightly distressed for a more vintage look. The shorter crop will show off your awesome booties, and you can easily wear the jeans to work, then out with the girls for the night, because they're just that cool.