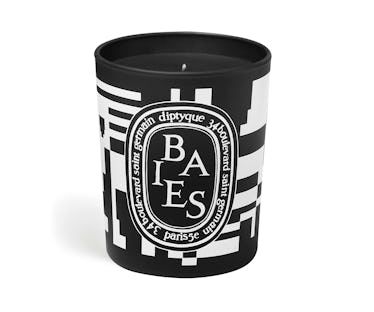 Diptyque Is Having Its First-Ever Black Friday Sale & They Have An Exclusive Candle For $20 Off
Courtesy of Diptyque
Considering Black Friday is one of the biggest shopping days of the year, it's rare to come across a brand that doesn't offer an exclusive deal on their merchandise in hopes to spike sales just in time for the holiday season. Well, that was the case with cult-favorite, luxury candle brand Diptyque until just this year. And by the looks of the exclusive deal that they're offering this year, it seems that the motto of Diptyque's Black Friday 2018 sale is "go big or go home."
So what kind of deal will the French fragrance brand offer come Friday, Nov. 23? Diptyque's best-selling, full-size Baies candle will be getting a holiday makeover and will be available for just $75 USD from Friday, Nov. 23 until Cyber Monday, Nov. 26, while supplies last. If you're familiar with the Diptyque brand and their prices, then you already know that $75 for a full-size candle is quite the deal, not to mention, you know so many people will be lusting after this candle, too.
The original 10.2 oz Baies candle smells of roses with notes of blackcurrant leaves, comes in a handmade black porcelain vessel with a black wax on the interior, and normally retails for $95 USD. In honor of their first-ever Black Friday sale, Diptyque has redesigned the candle's vessel by decorating it with an exclusive, limited-edition black and white graphic motif — and they've knocked $20 off the price.
There is a catch to this incredible deal, though: The updated Baies candles will only be available exclusively on the Diptyque website while supplies last, meaning once they are gone, they are gone for good. And if the speed at which past Diptyque launches have sold out is any indication, then you're going to want to set your alarm and have the site already open on your browser, so you can click "add to cart" on this candle as fast as possible.
While this deal is quite literally "lit," what's even more lit is the fact that these full-size candles stay lit (OK, I'm done) for up to 60 hours. So when you stock up on these chic candles, know your home will smell like bouquets of roses throughout the entire holiday season (and thereafter).
If taking advantage of the brand's Black Friday deal will be the first time you get your hands on a Diptyque candle, then you should probably know how to take care of these buys. That way, you can enjoy their aromas for as long as possible. (Yes, with great, luxurious power comes great responsibility.)
First, before lighting your candle for the first time, trim the wick to a quarter of an inch tall, as this will allow it to burn more slowly and avoid black smoke marks. Then, the first time you burn your candle, allow it to burn for at least two hours, until the whole top of the candle is liquid with wax — this will make sure the candle burns evenly without any craters. Finally, make sure to re-center and straighten the wick each time after blowing out your candle, since this will also help to make sure the candle burns evenly and slowly.
Remember, this deal won't last long, so set your alarm and be ready to snag this first-ever Black Friday candle deal before anyone else.