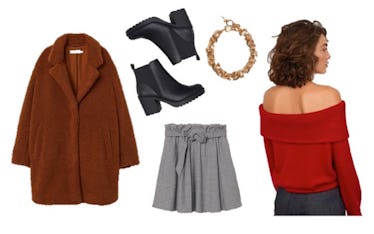 H&M's Black Friday Sale Scores You Major Deals For Your Holiday Festivities
Deck the halls with racks of clothes! That's how the song goes, right? OK, maybe not. But, take a second and imagine what that scene might look like in your apartment. There would be wooden hangers with sherpa coats and off-the-shoulder tops everywhere, and probably some cute neon lights just for the #aesthetic. There would also be shelves filled with shoes that look high-end, but are actually really affordable. This hallway in your apartment might as well be a modern, street style version of a runway show. Well, thanks to the latest deals, this vision could become a reality. The H&M Black Friday 2018 sale gets you the best prices on fashion-forward pieces for your closet — and for all of those festive parties coming your way.
Let's be honest: As much as you've been thinking about presents and what to get your besties for the holiday gift exchange, you've also had your outfits on your mind. Every event over the next few months requires a different look, so not taking your style into consideration right now, before the party starts, would just be wrong.
Throughout the past couple of weeks, you began scrolling through the various products from your favorite brands online. (You didn't want to face the mall quite yet, considering you will be there for Black Friday and then the entire month afterward.) You filled your cart up, but decided not to hit the check-out button until you re-evaluated the sales and coupons at your disposal. Girl, you had the right idea, because H&M's Black Friday 2018 sale has been revealed. And they're better than what you were hoping for.
What does the H&M Black Friday 2018 sale consist of?
So, what are the steals and deals you can expect on Black Friday from this iconic fashion brand? Well, according to a rep for H&M, you'll receive 30 percent off of your whole purchase, per Bustle. And this awesome deal doesn't end there. On Cyber Monday, H&M will be offering 30 percent off online orders as well.
What recent campaigns from H&M should you shop right now?
In my personal opinion, this brand got even better the day it started collaborating with the big designers. When H&M released their collection with Balmain back in 2015, I was studying abroad in Italy. The crowds were overflowing out the door, and I spent my break in between classes scoping out the new pieces. There were shirts with sequins, and long jackets that were bedazzled with pearls and other appliqués. It was like walking through the behind-the-scenes area of a New York Fashion Week show.
Ever since that collaboration, I've been curious about every other creative endeavor that comes out of this brand — their latest being MOSCHINO [tv] H&M. This collection features streetwear pieces like T-shirts with discs as the print, and sandals with gold chains on the strap. Your favorite old-school animated characters like Minnie Mouse and Daisy Duck make an appearance on hoodies and other items, which can be paired with sparkly bralettes and peace sign earrings.
Long story short: It's a blast from the past, and it's a dream come true for every '80s or '90s kid that's trying to bring that era back. On Black Friday, you'll want to shop this campaign and the regular fall and winter collections from H&M. Scoring some sweet fashion for all of your festivities has never been so easy.