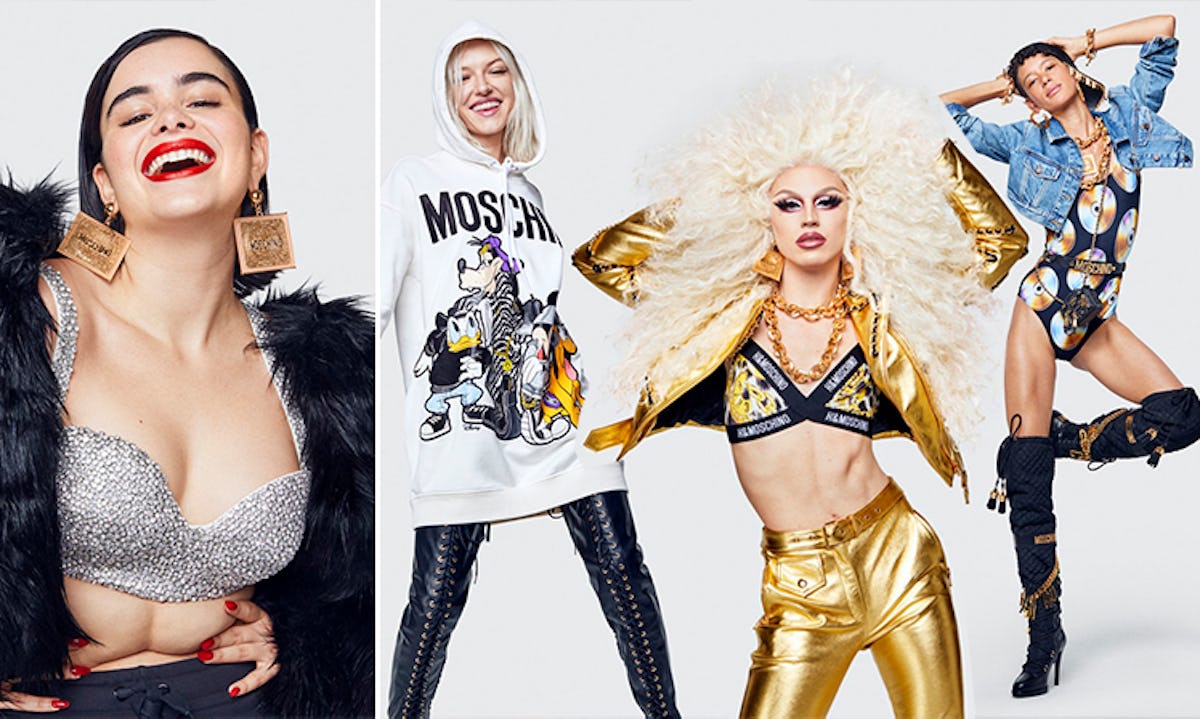 H&M x Moschino's Collab Boasts Disney Motifs, '90s Influence, & Even Clothes For Your Dog
Courtesy of H&M
H&M is known for bringing designer-inspired fast fashion to the masses at affordable prices, but over the years, they've collaborated up with actual major high-end brands to design limited-edition collections at prices everyone could afford. This November, Jeremy Scott will join the ranks of Balmain, Erdem, and Alexander Wang, and I can already hear the stampeding of fashion girls flocking to malls across the country. The H&M x Moschino Collection is loaded with bold prints, gold accents, oversized logos, faux fur, and even Disney motifs, and includes womenswear, menswear, and dog clothes, which is a first for any of H&M's designer collaborations.
The collaboration is officially named MOSCHINO [tv] H&M — I'm not sure where the "tv" comes from, but one of the logos is an exact replica of the MTV logo — and will feature of 60 limited-edition Moschino-branded pieces. "Like all my collections, it's humour meets haute couture meets the street," reads a quote from Scott on the H&M website. "That's been a hallmark of my work for MOSCHINO, and I want to continue to explore that with this collection. For fans of the brand, it should feel a little like a greatest hits collection, but I promise it will still be new, still feel fresh, even though we include some winks, some hints from the past."
Here's a look at the women's collection, all of which look like the designer's super expensive pieces, but cost a fraction of the price.
Black leather dress $399
Faux chain hoodie $199
Thigh-high lace-up boots $349
Red puffer jacket $199
Yellow puffer skirt $99
Black Moschino crossbody $129
Silver sequin hoodie dress $199
CD print zip-up dress $99
H&M Moschino Knee-high socks $25
Lace-up heeled boots $249
Faux chain crop top $129
Mini leather-jacket crossbody purse $149
Gold chain bracelet $70
Gold chain Moschino belt $199
Faux leather Moschino Eye Mask $50
Yellow faux fur stole wrap $70
Mickey Mouse jerset high-low dress $99
Moschino Mickey Mouse hoodie $99
Peace-sign gold earrings $35
Black Moschino DJ Donald Duck jersey dress $99
Black Donald Duck & Daisy Duck sweater dress $129
Quilted Moschino chain thigh-high boots $399
Sequin Moschino denim jacket $99
Denim bustier $60
Denim fold-over waist skirt $80
Gold lock Moschino purse $249
CD print bodysuit $60
Denim overalls $149
Peace sign coin bag $35
Faux leather cropped jacket $399
Faux leather pants $399
Silver sequin hoodie dress $199
Thigh-high lace-up boots $349
Chain print zip-up jacket $199
Chain print sweats $119
MTV Moschino hoodie $70
MTV Moschino slides $80
MTV Moschino hat $40
Moschino Disney baseball jersey $99
Sequin Moschino denim jacket $99
Quilted Moschino chain thigh-high boots $399
Silver crystal bustier $199
Gold Moschino drop earrings $50
Faux fur Moschino coat $299
Moschino Donald Duck & Daisy Duck tee $40
Black Moschino crossbody $129
Terrycloth tie-front bralette $25
Gold faux leather jacket $499
Gold faux leather pants $349
Chain print bralette $35
Pink faux fur and chain coat $299
Moschino Disney tee $40
Chain print dog jacket $99
Mark your calendars: The entire collection will be available online and in stores on Nov. 8.