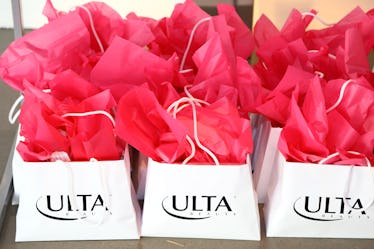 Ulta's Cyber Fundays Sale Starts BEFORE Black Friday, Because Who Can Wait That Long For Sales?
Astrid Stawiarz/Getty Images Entertainment/Getty Images
With Black Friday quickly approaching, it would almost seem silly for a retailer to launch another sale before the biggest shopping day of the year. But that's exactly what one beauty behemoth has done. Ulta's Cyber Fundays Sale has just been announced and after some thought I guess it's actually kind of brilliant. Once you see the deals it's offering, I think you'll agree that it will be hard to pass up, which means I'll likely be dropping a good chunk of change that would have otherwise gone to Black Friday sales an entire week early. Bravo, Ulta, bravo.
Starting this Thursday, Nov. 15, at 10 p.m. CT and lasting through Nov. 17, Ulta will be holding what they're calling their "biggest, best event." That's big talk for a company that boasts other incredible events, such as its 21 Days of Beauty sale, which unveils discounts on a new batch of products every day for three weeks.
While most details of the Cyber Fundays Sale are still under wraps, I do know that it will include more than 160 offers from some of your favorite brands including Tarte, Mac, Urban Decay, NYX, Benefit, Philosophy, and more. Basically, offers from all of the best brands that Ulta carries. That means cult-favorite products like Tarte's Shape Tape Contour Concealer ($27, Ulta.com) and Double Duty Beauty Shape Tape Matte Foundation ($37, Ulta.com) or Philosophy's heavenly Amazing Grace Eau de Toilette ($49, Ulta.com) just might be available to shop at seriously slashed prices, and if you could get them an entire week before Thanksgiving hits, wouldn't you want to?
But, in my opinion, the mystery offerings aren't even the most exciting part of Ulta's upcoming sale. The retailer has also revealed that if you spend $65 or more online during the sale you'll also score an incredible freebie: an 18-piece beauty bag that's valued at more than $71. Could this sale get any more generous? You'll be able to choose from three bag offerings based on the products they contain (there will be a light pink glittery bag, a blue glitter bag, and a deep pink glittery bag), some of which include Prada and Versace perfume samplers, L'Oreal Pure Sugar Scrub, Tarte lip pigment samplers, MAC mascara, Caviar shampoo and conditioner, products by Mario Badescu and Origins, and much more.
The freebie's samplers will provide an excellent way for you to try out a bunch of new products, so I highly suggest hitting that $65 minimum. (I know I will be.) Who knows, you might discover your new favorite makeup product or a life-changing skin cream in the process.
Keep in mind while you shop that Ulta will also be participating in Black Friday deals, so don't blow all of the money you saved for beauty buys too early. Last year, the retailer seriously slashed prices on products like Urban Decay's Nocturnal Shadow Box and Chi flat irons for Black Friday, so yeah, there will be major savings to shop then, too.