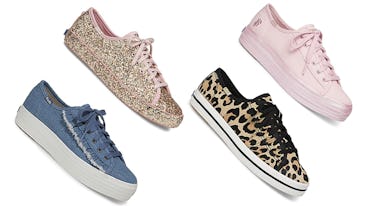 Keds' Black Friday Sale Is The Perfect Excuse To Snag Those Glittery Sneakers On Your Wishlist
Keds
I know we've still got a few weeks to go until it's officially holiday shopping szn, but with Thanksgiving just around the corner, Black Friday isn't far behind, and Keds' 2018 Black Friday Sale is so good, I just can't wait to talk about it. For many, the first thing to come to mind when imagining autumn and winter footwear is a good boot, but Keds is changing the narrative by coming out with some seriously stylish sneakers to rock during the cooler months. Plus, you can shop them for less during their Black Friday sale, so if there's ever been a time to expand your sneaker wardrobe, this is it.
Since Keds knows a lot of damage is done on Black Friday, they've decided to give us a chance to catch our breath and are extending their sale well beyond 24 hours — in fact, they're giving us a full week to make the most of this major discount. From November 20 through November 27, the Keds website will have a Cyber Week sale, offering 30 percent off of full priced orders, as well as 20 percent off sale. They're even throwing in a free sock gift with purchase, which is considerate of them now that my closet is about to be filled with sneakers.
An actual video of me, filling my online cart with all the cute sneakers I deserve during this massive sale:
So, what is there to buy with this oh-so-major 30 percent off discount? Like I said, it applies to all full priced orders, and I've got a few pumped-up kicks in mind. I'm hoping to snag the Women's Triple Kick Ruffle ($55, keds.com) because I love a platform to make my 5'1 frame look a little longer. The denim vibes are also very fall and winter-appropriate, and I think they'd be a cool footwear choice to dress down some leather-look pants or an everyday dress.
Another very on-trend option I'm hoping to snag are the Women's Keds X Kate Spade New York Kickstart Calf Hair ($110, keds.com). This pair is a little pricey, thanks to the super soft calf hair and designer label, but leopard print is so in right now that I just can't resist, and a 30 percent off discount has me even more convinced I need this pair of sneakers in my life. (And my closet.) Plus, I can't think of a more comfy shoe to spice up the many all-black outfits I'll be sporting during the colder months; I love the idea of a fun, patterned sneaker peeking out from underneath my floor-length winter coat!
Speaking of fun sneakers, I'm not not picking up a glittery pair to rock on New Year's Eve! The Women's Keds X Kate Spade New York Kickstart All Over Glitter ($90, keds.com) have to be some of my favorites on the site, and I love how girly and whimsical they are without feeling too childish. This pair features canvas gold glitter uppers with a blush pink lining and pink glitter laces, and they're a 100 percent comfier option than a full-on sequin dress when it comes to New Year's party attire. Sign me up.
Last but not least, my heart still beats for millennial pink, even in the winter, which is why I'm gravitating towards the Women's Triple Kick MLB ($70, keds.com). The basic shape and platform bottom make these perfect for everyday wear, but the pop of pink adds a little more interest than a classic white sneaker. I'm pretty confident these sneaks paired with jeans and a white sweater will quickly become my go-to everyday look — plus, if you're a sports fan, you can have your team's logo embroidered on the back!
Considering the sale doesn't start until November 20, I know it's a little cruel of me to tempt you with the above shoes I'm sure you want in your closet right now. Sorry not sorry, though, as I simply wanted you to be prepared and know about the upcoming deal! Thank me later, and thank Keds, too!