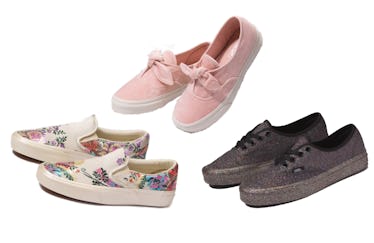 Leopard, Satin, Glitter, Oh My! The 12 Best New Sneakers From Vans Are So On Trend
Now that it's finally a justifiable time to start updating my fall and winter wardrobe, I have to admit that while I should probably stock up on boots and waterproof footwear, I can't stop lusting after cute statement sneakers. Just a quick scroll through the Vans "New Arrivals" section has my heart all aflutter, and I know I'm not the only one who knows a good sneaker can really pull a look together. Just to further tempt all you online shoppers with a soft spot for sneaks, I've rounded up the 12 best new sneakers from Vans for your viewing (and possible wearing) pleasure, and if you can make it through this lineup without adding a pair to cart, all I can say is that I envy your high level of self-control.
First up, it would be just plain wrong of me to not acknowledge the nostalgia-invoking Disney x Vans collab, which features 21 women's footwear options, all of which I'd like to own. The only thing stopping me from already having a pair in my everyday rotation is that I simply can't choose which is the best, because they're all pretty fab. One of the top potential pairs on my wish list has to be the Disney x Vans Old Skool in "80s Mickey Mouse/True White" ($70, vans.com) because the retro vibe just feels so right. This pair features iconic duo Mickey Mouse and Minnie Mouse sporting some sunnies against the signature Vans checkerboard print, accented by some pastel color-blocking. Seriously, what more could you ask?
If you want to rep your Disney pride with a little more subtlety, though, you're better off opting for the Disney x Vans Old Skool in "Mickey Mouse/True White" ($70, vans.com). Think of this as your classic, white athleisure sneaker with a cheeky Disney twist: there's a minimalist black Mickey head silhouetted on the sneaker's tongue, and one of Mickey's signature white gloves by the heel.
If you're not a Disney gal, don't fret: there are lots of other new arrivals to get excited about. Personally, I'm hyped up over the Varix WC in "Multi/Turtledove" ($100, vans.com), mostly because I've never seen a sneaker with such a unique color palette. This shoe has hints of mint green, peach, pink, tan, navy, and burnt orange, which sound like shades that might not compliment one another, but are actually a color combo I didn't know until right now that my life was empty without. The shape of the shoe itself is said to be inspired by Vans tech skate silhouettes from the 1990s and early 2000s.
If, like me, you're full-on embracing this fall's leopard trend, you'll be happy to know that Vans is, too, and they've got the perfect pair of sneaks to compliment your lewk. The Sk8-Hi Platform MTE in "Black/Leopard Fur" ($95, vans.com) is as magical as it sounds, and by that I mean it has faux leopard fur adorning the collar. The rest of the shoe is black and white, and the neutral overall look allows the fur to pop without looking too costume-like. Plus, it's a perfect pick for fall and winter thanks to its weatherized design, which features weather-resistant leather uppers, a heat retention layer, warmer linings, and snow boot-like traction on the outer sole. Catch me rocking these with my warmest coat and a matching leopard scarf ASAP.
There's also the very important Woven Tiger UltraRange RapidWeld in "Black" ($85, vans.com) for those of us who are into the animal print trend but already purchased too much leopard. This woven tiger striping is similar to a leopard print without being exactly the same, so you can follow the trends while still looking ~unique~ and ahead of the curve.
Into the whole weatherized-sneaker thing? It's an exciting development that has me literally throwing out my rain boots to make room for more sneakers in my collection. If leopard isn't your thing, you'll be happy to know there are a ton of other weatherized options, the Suede Sk8-Hi Platform MTE in "Desert Rose Black" ($95, vans.com) being another pair I love. Nothing, I repeat, nothing gives me fall vibes quite like suede, so this pair feels like a great addition to my transitional wardrobe. I'm a huge fan of the pinky Desert Rose shade, but if you're more into neutrals, this one also comes in a tan suede option called "Moonbeam Black."
I know what you're thinking: leopard, suede — who knew Vans was so hip to all the latest trends? They've got another one down pat, too, thanks to their Leather Old Skool Platform in "Snake/White" ($75, vans.com) which feature an all-white snakeskin look so chic, designer boots everywhere are quaking.
One of the more muted but equally stunning designs catching my eye is the Winter Floral Authentic in "Black" ($60, vans.com) which feature an all-black body with a long-stemmed, pale pink rose on either side. These are the perfect combination of dainty and tough, and if Belle from Beauty & The Beast was ever re-imagined as a skater chick, I really feel like she'd have these on.
Or, skater Belle might opt for the best-seller Roses Sk8-Hi in "Sand Dollar/True White" ($70, vans.com) instead, as they feature an array of red roses, which really were more her thing. I love the feminine pattern contrasted by the edgy Sk8-Hi silhouette, and the sand-colored background really makes the white laces and accents pop.
Speaking of girly picks, we can't not discuss the Velvet Authentic Knotted in "Rose Cloud" ($70, vans.com) because that would be a huge oversight and it's important that you be well-versed in their baby pink velvet-y goodness. These slip-ons feature the cutest knot detail on top, plus soft velvet outers you'll find yourself bending down to touch throughout the day. BTW, Kate Middleton is a huge fan of fall's velvet shoe trend, so you better get these ASAP so you can channel her royal vibes.
Even though the Rainbow Glitter Authentic in "Black/Black" ($65, vans.com) already have a perfectly fine name, I'm choosing to rename them as the "Avril Lavigne Successful 2018 Comeback Kicks," because they give me serious Avril vibes and I'm so here for her latest single. These sneakers feature glitter all over, from the uppers to the rubber outsoles, but the black base keeps the sparkle looking cool and not too over-the-top.
And finally, to end this list with a bang, I now present the Festival Satin Slip-On in "Gold/Gold" ($60, vans.com) as the official statement sneaker of Fall 2018. The combination of the skater slip-on style in contrast with luxe gold satin and metallic brocade textiles is so major, and this is the ultimate pick to jazz up those simple jeans-and-a-sweater looks that need a little something extra.
So, what have we learned here today? Firstly, that statement sneakers are very in for fall and winter 2018, and secondly, that Vans has all the options a girl could want. Class dismissed, and happy sneaker shopping!