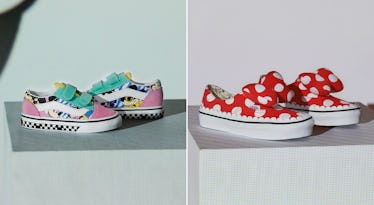 Vans & Disney Are Dropping The Coolest Collab For Mickey Mouse's 90th Birthday
Courtesy of Vans
Lately, it seems as if all sorts of brands are jumping at the opportunity to collaborate with Disney to create various products inspired by all the beloved movies and characters we know and love. The latest Disney-themed merch that will have all Disney lovers feeling like they're living in a fantasy land? The new Vans x Disney Mickey Mouse collection. In honor of the OG Disney character's 90th anniversary, the notorious sneaker brand has created a collection of shoes, accessories, and apparel that all capture the famous mouse's evolution from his film debut in 1928 all the way to present day.
The collection will be available on Oct. 5, in store at Vans retailers and partner locations, and online at Vans.com. And if the previous Vans x Disney collections are any indication, then the price point for this latest collaboration will be in the same ballpark as the normal Vans' prices, which span the $50 — $100 range for both shoes and apparel.
There's no word yet on if this new merch will become a permanent extension of the Vans line, or if it will only be around for a limited time. But again, considering the past Vans x Disney collections that were strictly capsule collections, you might want to consider jumping on ordering from this collection as soon as it drops, so you don't miss out on these unbelievable Mickey-inspired pieces.
As far as the products themselves, the line boasts 11 different designs that commemorate the past nine decades of the Mickey's life. Beginning with Mickey's first appearance in the 1928 short film, Plane Crazy, Vans designers reworked the Sk8-Hi by adding a film scene from the black and white silent movie to each of the shoe's quarter panel and finished it off with a 3D emblem on the heels.
In the 1940s, Fantasia graced the small screen. To embody Mickey in this film, where he appeared as the uber mischievous "Sorcerer's Apprentice," the original Sk8-Hi was altered to include velvet and suede panels, with yellow moon and star embroideries, a black sole, and star-printed laces — all inspired by the character's hat. Fantasia fanatics can pair their Sk8-Hi's with a Fantasia-themed t-shirt and backpack as well.
Now, Mouseketeers, you can really let out your inner Mouseketeer. To showcase the Mickey Mouse Club's version of Mickey, Vans recreated the classic Old Skool shoe to feature a red sidestripe and Mickey Mouse Club logo sewn on the tongue.
If you're big on the '80s and Disney, then you'll probably want to add Vans' special model of the Old Skool shoe to your shopping cart. The shoe combines multi-color uppers in pink, yellow and green and is finished off with a very ~cool~ '80s version of Mickey and a checkerboard pattern. In addition to the retro version of the Old Skool, you can pair the sneaker with '80s-inspired apparel and accessories that will have you feeling all sorts of nostalgic.
Fast forward to the '90s-themed section of the Vans x Mickey collection, and you'll see both Mickey and Minnie get a punk makeover all over a range of tees, sweatshirts, and backpacks — flames included.
To round out the new collaboration, you'll see shoes, hoodies, hats, and backpacks emblazoned with Mickey's — and Minnie's — signature looks. There's the Vans Original Deck shoe that has been updated with Mickey's trademark colors and the Authentic Gore that is detailed to resemble Minnie's pink and white polka dot dress with oversized bow. And, of course, both character's signature looks are also translated into a range of accessories and apparel, as well.
These and more will all be coming to the Vans lineup this Friday, Oct. 5. See ya real soon, Mickey and Minnie!