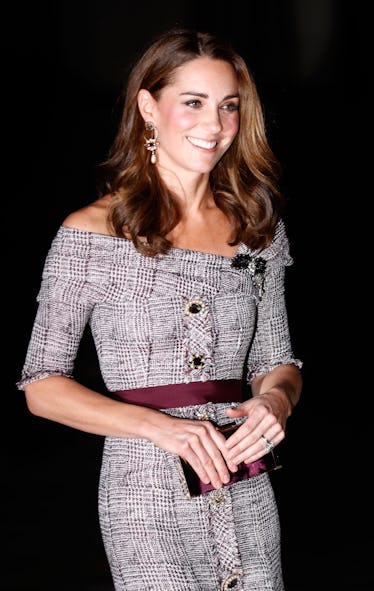 Kate Middleton Just Wore One Of Fall's Biggest Trends & Honestly, Who Isn't On Board?
Chris Jackson/Getty Images Entertainment/Getty Images
Every season there's something fashion-based I get really excited to try out and right now, it's fall's velvet shoe trend. I know, I know — velvet shoes are nothing new. But the way that they're being styled and designed somehow feels a bit more elevated and luxe and, strangely, gutsy. From jewel tone mules bedazzled with oversized brooches to sleek pointy-toed boots in brocade prints, velvet shoes are cooler than ever — and royalty agrees.
Earlier this week, Kate Middleton arrived to an event at the Victoria & Albert Museum in London (for which she serves as a patron) wearing a tweed Erdem dress. Featuring a cool asymmetrical neckline, frayed hemlines, and a dramatically flared silhouette, it was a refreshing departure from the more fitted and classic styles Middleton typically wears. To finish off the look, she paired the dress with a pair of burgundy velvet pointy-toed Jimmy Choo heels. The slight sheen of the heels paired with the brooches on Middleton's dress allowed the look to feel a bit opulent but not pretentious. It's one of my favorite outfits that the Duchess of Cambridge has ever worn, and thanks to its rich textures and deep colors it's also perfect for fall.
If you want to get in on the royal style treatment, there are endless styles of velvet shoes for you to shop to fall. Whether you're looking for something to wear to a wintery wedding or just to the office, there'll be a shoe that'll make you feel all warm and fuzzy from the inside out.
Good Point
Follow in the footsteps of a literal Duchess with these velvety soft pumps.
Furry Feelings
An animal print that's actually as soft as an animal. (And all kinds of comfy!)
Bad Witch
These give me major Hocus Pocus vibes in the best way. I'd wear them with a long ruffly dress and dramatic choker for an especially magical look.
Rose Toes
Brocades are always a good idea, especially when they're stamped with a bouquet of roses. Wear these with a fancy dress or casual jeans alike.
Soft Spots
Classic Vans, but with a few soft spots thrown in.
Bling Rings
Now this is what I call a fall statement shoe! If you're attending a wedding anytime between now and too-cold-to-wear-sandals weather, these should definitely be on your feet.
Ballet Beautiful
No ballerina bun necessary.
Wild Thing
The smoking slipper gets a cool update with mustard yellow velvet spots.
After Hours
The perfect inky velvet shoe to match all your midnight adventures. The block heel ensures that you'll stay stable in them despite their height.
You're a Star
You know that anything Alexa Chung touches is going the be rad. These star-studded loafers are no exception.
Waves Hello
Sweet scalloped heels that I'm pretty sure Betty Draper would approve of.
Take a Hike!
Actually, it's probably best not to hike in these. But definitely wear them whenever and wherever rocky terrain and strenuous exercise is not involve.d