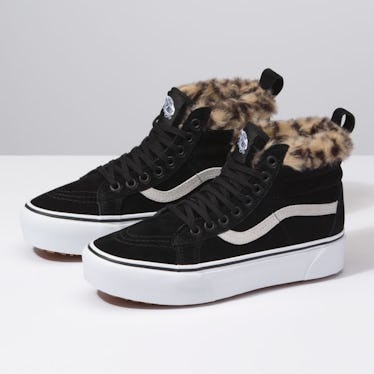 Vans Is Dropping Furry-Lined Sneakers Because Winter Is Coming & You're Welcome
Vans
I know you don't want to admit it but fall is going to go by in a flash. And when the days of lovely light flakes and full on blizzards hit you'll want to make sure you're prepared for them from head to toe. Vans' All-Weather MTE collection can help you with that seeing as it not only includes some ultra cozy sneakers but also offers up a healthy collection of outerwear specifically designed to keep you protected against the elements. The skate brand's got tricks up its sleeve, eh?
While the collection's footwear offerings probably won't replace your chunky treaded plastic boots, they can definitely stand in for whatever you typically wear during the winter when the ground isn't covered in ice. (West coasters, this means you can wear them all season long.) They take shape in Vans' classic Sk8-Hi MTE and Sk8-Hi Platform MTE forms but have been given some super rad updates. Fuzzy leopard textiles, hot pink suede, and dreamy color combinations are among them.
The coats, however, are certainly fit for even the most frigid of snow storms. From a hooded puffer to some colorful anoraks, they've definitely got your back. Shop the best pieces from the collection below and check it out in full here.
Wild Thoughts
Leopard is in for fall. Faux fur accessories are in for fall. Vans are always in for fall. Point being, these shoes rule and you should consider getting a pair.
Work It
I love all of the workwear that's been hitting the runways and shelves alike over the past few seasons and this jacket is no exception. It reminds me of an old school Carhartt jacket with sweet pink accents added in, and the fleecey inside is just the icing on the cake.
Logo Mania
For if you want to let everyone know which brand's got your back.
Sweet As Pie
These give me major ice princess vibes, which is a cool contrast to the skater look Vans is known so well for. As for the fuzzy cuffs? I want my ankles hugged by those all day in negative nine degrees temps.
Dusty Rose
Dusty Rose is technically the name of Behati Prinsloo's daughter, but it also describes the color of this jacket perfectly so? It features a slightly dropped hemline and minimal silhouette.
Peak Pepto
Now these are cool. The color combination of Pepto pink and black alone is worth getting a pair for but the fuzzy suede material really puts them over the top.
Wrap Star
Why not finally swap your black puffer out for this hooded olive green one? It's still going to keep you uber warm but at least you'll be rocking a little color (although a super subtle one!).
Party in the Back
Because the fur-trimmed hood will never not be cool.
Soft Stepper
These are lined with faux shearling, made of suede, and they come in a gorgeous fuchsia shade. Enough said!