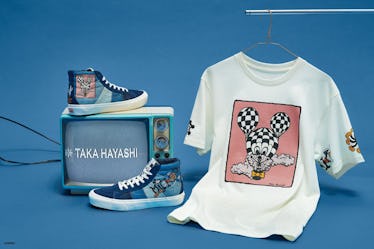 Vans Is Celebrating Mickey's 90th Birthday With A Collection Of Mouse-tastic Tees & Sneakers
If a visit to the Magic Kingdom is your idea of a dream vacation, then you're going to fall in love with a certain upcoming sneaker drop. The Disney x Vans Mickey Mouse collection boasts a lineup of truly rad pieces emblazoned with the most iconic character of all, and it's so good that even if you're not a cartoon-lover you'll definitely still be into this offering. It's being released through Vans' premium Vault label, so you know it's something extra special.
In honor of Mickey Mouse's 90th birthday, which will officially take place on November 18 (Mickey made his first appearance in a short film called Steamboat Willie on that date), Disney and Vans tapped four prominent artists to reimagine the mouse through their own unique creative lenses. Their works of art would then be translated onto sneakers and tees, which would collectively comprise a line of eight capsule items. The artists chosen to participate are Geoff McFetridge, an illustrator and graphic designer known for his minimalistic aesthetic; Mister Cartoon, a prominent Los Angeles-based tattoo artist who has worked on everyone from Dr. Dre to Beyoncé; John Van Hamersveld, an illustrator and graphic designer whose work stands out for it's vivid colors and '70s band poster appeal; and Taka Hayashi, a Vans Vault veteran who tends to lean towards slightly retro and earthier designs. See what I mean by there's something for everyone?
McFetridge's designs are the most classic of the bunch. Both the tee and sneakers boast white backgrounds on which Mickey, with his white gloves, red shirt, and yellow shoes, is emblazoned. "Mickey...is a real testament to the power of art," says the artist in a quote on Vans' website. "How much can come out of a single drawing is really sort of incredible."
Mister Cartoon, who typically tattoos in black and gray ink, designed a grayscale offering true to his style. Both the black tee and sneakers show Mickey riding down a palm tree-lined street (perhaps in LA?) in a convertible. "I wanted to put him in the American dream," explains Mister Cartoon on Vans' website. "In a 57 convertible, rolling down the street."
Van Hamersveld's approach to Mickey is decidedly the most deconstructed and abstract, and it packs a uniquely cool punch. Mickey's iconic yellow boot hold court on the front of a navy tee and on the outsides of the sneakers, which feature the mouse's face on their inner facades. "It always starts out as a mystery. What do you do? How do you turn it into something?," he tells Vans. "So I thought, well, ok, I'll just deconstruct Mickey."
Finally, we have Hayashi's take. It's got that cool graphic streetwear vibe of Kith and Noah but with retro elements mixed in that take it one step further. The tee boasts original artwork of Mickey as a hot air balloon and it ties in the classic Vans checkerboard pattern. The shoes are entirely their own entity, a first for this collection. They're composed of what appears to be patchwork denim and feature the name "MICKEY" stitched on their sides.
You can shop the collaboration starting Tuesday, August 28, with prices running between $78 to $100.