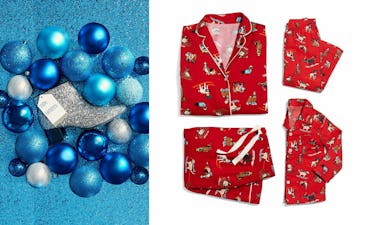 Old Navy's Giving You 50 Percent Off EVERYTHING For Their Black Friday Sale — Are You Crying Yet?
Courtesy of Old Navy
When it comes to annual sales, some retailers do them bigger than others. Like, way, way bigger. Case in point: Old Navy's 2018 Black Friday sale, which is so wonderfully huge that you just might want to save all of your holiday shopping for post-Thanksgiving. Offering savings up to half off and spanning for way longer than just one day (because honestly no discount is worth potentially getting trampled by those who consider Black Friday shopping a sport), the sale is arguably the most generous of the year. Now that's the holiday spirit, am I right?
Old Navy's Black Friday sale can actually be split into two separate sales. First up is their Black Friday Pre-Party Sale, which runs between Nov. 15 and Nov. 20 and will offer 40 percent off your entire purchase both in store and online. Awesome, right? And that's not even the better of the two! The retailer's Black Friday Now Sale, which runs between Nov. 21 and Nov. 23, will offer half off your entire purchase both in stores and online, as well as thousands of styles marked down to $5 each for the occasion. If you're an Old Navy cardmember the deal gets even sweeter. You'll be able to get early access to the Black Friday Now Sale and score 50 percent off purchases in stores and online from Nov. 15 to Nov. 18. I'll give you a second to let that all sink in.
If you're keen to get in on the deals, which are basically letting you shop for twice as much as usual at the same price, make sure you check the Old Navy's opening hours for the week. On Wednesday, Nov. 21, Old Navy stores will open at 9 a.m. and remain open until 10 p.m. On Thanksgiving Day, Nov. 22, stores will open at 3 p.m. and stay open through the night. On Black Friday, Nov. 23, doors will remain open until 10 p.m. That gives you more than enough time to reap the discounts and if you decide to brave the crowds and go to your local Old Navy in-person on the 23, don't forget to also check out their One Dolla Holla sock sale.
Here's just a small selection of what you could score for half off to get you even more excited:
Sweater Weather
December is when the worst of winter really hits, so amp up your cold weather wardrobe game with this cute patterned sweater. Thanks to its color palette it would look excellent with jeans.
Shine Bright
Metallic outerwear is trending once again this season, so you might as well get in on the look now because I have a feeling it's here to stay for years to come.
Flip It
Because let's be real, the cold isn't going to stop us from checking the 'gram.
Winter Bouquet
Is cute, pairs well with tights.
Sweet Dreams
I love getting new thermal underwear every season to get extra hygge in and this colorful set is on my wish list.
Dark Side
Two-tone denim instantly makes literally any outfit look cooler.