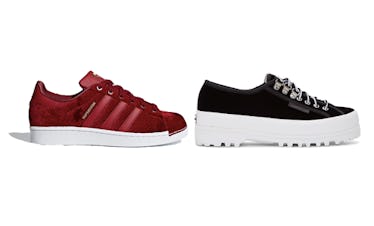 Velvet Sneakers Are Trending This Winter & They're All You'll Need For Holiday Party Season
Adidas / Ssense
When it comes to shoe styles that seem to embody the spirit of the holiday season, this year's velvet sneaker trend reigns supreme. There's something about the softness and richness of velvet that makes it feel opulent, warm, and luxe, which are three words that would define a pretty badass holiday party, if you ask me! Velvet sneakers, therefore, are like dressed-up versions of everyday footwear and can instantly make any outfit that much more festive and fancy. Think of them as the sartorial version of ornaments or other seasonal swag.
Wear them with jeans and a sweater for an ultra cozy office outfit, or pair them with a printed maxi dress or jumpsuit for events that call for something a bit more elegant. There are seemingly endless options to choose from that range from the sleek and sporty to the super trendy so no matter what your style aesthetic is there will be one you'll love. Take a look at ten of the coolest ones that you can shop now and pick a pair to indulge in before all of those seasonal soirees start popping up. Your feet will thank you for forgoing sequined stilettos this year.
To Scale
Velvet in snakeskin print form is the most winter 2018 thing that could ever happen. Animal print is everywhere this season so naturally its been interpreted in ultra-soft form and on a shoe, no less.
Air Head
If you're a fan of Nike's classic sneaker styles, this tactile take on the Air Force 1 might be the seasonal shoe of your dreams.
Plush Pepto
Less streetwear inspired, more Keds. These soft pink sneakers might not stand up to the elements but they will complete your look for any indoor event in the cutest of ways.
Black on Black
These with trousers, a dressy crop top, and sculptural statement earrings would be my dream cold weather party look.
I'm Crushed
Who knew mustard yellow crushed velvet would be so legitimately cool? And paired with Superga's classic silhouette? A gift in itself.
Sole Sister
Part creeper, part sneaker, this chunky shoe was made for the fearless fashion enthusiasts. Seeing as it was dreamed up by Alexa Chung, it was also made by one.
V is For Velvet
Like something your dad might've worn in the '70s but way, way cooler.
The Cat's Meow
See what I mean about animal print being everywhere? These leopard-print velvet sneakers would be the perfect way to add some flare to an all-black look and would pair perfectly with rich gold jewelry.
Go for Gola
These shoes will make you forget all about silver linings and will have you seeking gold ones instead. They boast a slimmer and sportier silhouette with a contrasting sole but their more informal structure is elevated thanks to a velvet upper.
Material Girl
This pair boasts velvet and patent details, which together render it the most luxe of the group. Shininess and softness. What could be better?