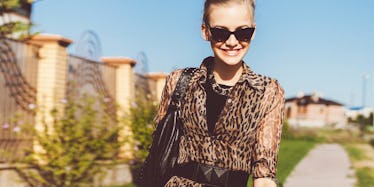 How To Wear Leopard Print Without Looking Like A Cheap 90s Hooker
I'm all for channeling Cookie Lyon day-in and day-out, but leopard head-to-toe can be a little intense. Sorry, Cookie, but not all of us have your slaying prowess.
The best way to wear leopard print is to rock it as a neutral. I know that sounds entirely counterintuitive, but surprisingly it works. Pair with leather, pair with faux and real fur, pair with silk and satin -- go wild. Literally.
Here's how to make leopard work for your nine to five (and beyond).
Monday - Going to work still hungover from brunch
Sure, you've probably been drinking your Sunday scaries away since brunch, but now it's time to look like you actually give a f*ck and get to work. A leopard print blazer gives the impression that you're a functioning human being and high-waisted pants in a relaxed silhouette is a good substitute for the sweatpants you'd secretly much rather wear.
Tuesday - Going to Taco Tuesday with friends
Leopard jackets will always look unabashedly chic. They're like "Eloise at the Plaza" meets Blair Waldorf meets Cookie Lyon. When paired with chic, tailored neutrals, they can own the sidewalk (or the taco joint, whichever). Pair your kitty couture with black high-waisted skinnies to hide your oncoming food baby and structured black booties. Let the metallic clutch steal the show. Remember: Leopard print that's worn as a neutral will never look tacky.
Wednesday - Smoking a hump-day joint with your old college roommate
If you are just flat-out over leopard, opt for an abstract print instead. The blue spots don't immediately scream "kitty cat" but they are wild enough to add a little somethin' somethin' to your basic leather leggings and black booties. You're seeing your old college roomie, so you want to look cool but still down for anything, you know?
Thursday - Fancy date night drinks
Make him want to bone you the moment you sit at the bar. Play around with a bustier top and an asymmetrical skirt and pair with pointed-toe leopard pumps. A chic, minimalistic clutch will do you good — and will house all the bare essentials for a night out.
Friday - Bar-hopping, which turns to clubbing, which turns to drunkenly making out with your best friend of seven years.
If you're over the bandage dress scene but still want to look sexy as f*ck, opt for a tulip skirt with a tailored, low-cut bodice. Don't forget the fashion tape, otherwise the girls will easily pop out while busting a move to Fetty Wap. Pair with a graphic clutch and "f*ck me" heels.